Joss Whedon Confirms Jeremy Renner Is Hawkeye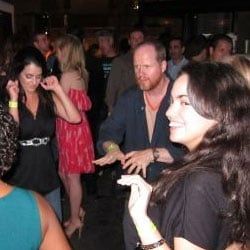 After all the speculation it'd be understandable that even after we told you Jeremy Renner was in final negations to play Hawkeye in The Avengers, you'd remain wary. Well, uncertainty be gone because now we have the confirmation from the man in charge, Joss Whedon. In fact, you can see the words come right out of Whedon's mouth in the video embedded below.
The Avengers talk kicks off at the 1:10 mark and Whedon gets to Renner's involvement at 1:28. Another superhero casting rumor officially put to rest! And I doubt The Avengers news will slow up from here. The film has certainly been a prime topic of conversation with Whedon at Comic-Con and the way he's talking about it, it seems this one could be coming together a lot sooner than we think.
Your Daily Blend of Entertainment News
Staff Writer for CinemaBlend.
Your Daily Blend of Entertainment News
Thank you for signing up to CinemaBlend. You will receive a verification email shortly.
There was a problem. Please refresh the page and try again.