Joss Whedon Will Write And Direct The Avengers 2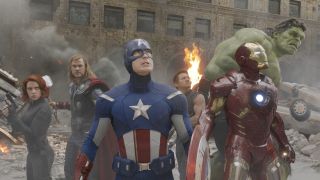 (Image credit: Marvel Studios)
It wasn't exactly doubtful that Disney would invite Joss Whedon back to direct the sequel to The Avengers, but it was not quite a guarantee either-- franchises switch up directors all the time, of course, and none more than Marvel, which hired new people for both the Captain America and Thor sequels. But now what all Avengers fans hoped for has come true-- Joss Whedon is officially signed on to direct the sequel.
The news comes, of all places, from a Walt Disney Investors Conference Call, which Slashfilm picked up on. There's no more news beyond that, but with the sequel green lit and aiming for a 2015 release date, Whedon, would have until next year to start putting the production together-- which gives him plenty of time to promote his next movie, the black and white low-budget adaptation of Much Ado About Nothing, which premieres at the Toronto Film Festival next month.
And that's not all! Over here you can read about how Whedon is also bringing his expertise to a Marvel TV series. Really!
We're excited that Whedon will be back, and we hope you are too. And if you've already forgotten just how uncertain this all seems, go back to this quote, where Whedon-- long celebrated for his original ideas-- seems genuinely torn about the idea of returning to the Marvel universe. I imagine the studio offered him a massive amount of money to take the job, of course, but knowing that he can do absolutely any movies he wants right now, Whedon must have some solid ideas to bring back to Thor, Loki, Hulk, Iron Man, Cap and company on the second go-round.
Your Daily Blend of Entertainment News
Staff Writer at CinemaBlend