New Jungle Book Image Gives Us A Closer Look At Mowgli And Bagheera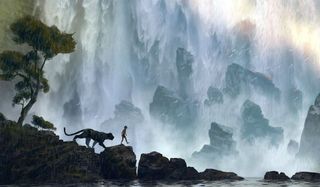 It's been a long while since we've heard anything on the front of Jon Favreau's upcoming live-action Jungle Book. But today at Disney's Live-Action panel at D23 Expo, the studio revealed a better look at the upcoming feature, including the story's two protagonists and unlikely friends, Mowgli and Bagheera the panther. Take a look:
The teaser poster for the big budget Disney film gives us our first look at just how realistic Mowgli and his animal friends will be. Last time we saw an image almost eight months ago, we started to get a feel for the true-to-size proportions of Mowgli and Bagheera the panther, but the distance wouldn't allow us to truly visualize what this live-action form entailed. This new image takes us closer to the the boy and his panther, and Bagheera has never looked so powerful and menacing, both innate qualities to the mammal that he is. Mowgli looks as small and childish as you would expect, but the size difference of these two makes how unlikely a friendship this is even more apparent.
Actor and filmmaker Jon Favreau has taken the reigns on this Walt Disney Pictures project, and has previously discussed his own excitement to take the beloved Rudyard Kipling adventure and make it his own. Maintaining some of the original qualities from the classic story, Favreau also hopes to add some mythic elements along with a different overall tone to the story. From this gorgeous poster, we can tell that there is going to be a sense of mystique just in the mere setting alone. Favreau has previously stated that he does not want to completely replicate the beloved animated version, but will include a few memorable moments, including some classic musical numbers, such as Baloo's famous song "The Bare Necessities", which was shared in a small clip at D23 as well.
The cast for the live-action flick has come together quite nicely with Neel Sethi as Mogli, Ben Kingsley as Bagheera, Bill Murray as Baloo, Christopher Walken as King Louie, Idris Elba as Shere Kahn and Lupita N'yongo as Rack. As more details on the flick come out, including this stunning poster, we're getting far more interested in what exactly a seemingly successful live-action Jungle Book movie will look like. Unfortunately though, the previous 2015 release date has now been pushed to April 2016, so looks like we are going to have to stay patient.
Your Daily Blend of Entertainment News
Thank you for signing up to CinemaBlend. You will receive a verification email shortly.
There was a problem. Please refresh the page and try again.