Kate Beckinsale As Barbarella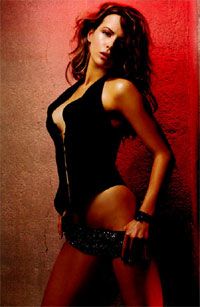 Another in what is sure to be a meteor shower of casting rumors for the new remake of the softcore sci-fi sex-kitten classic Barbarella has hit. The first which we reported on here said Sienna Miller had the part. But I really hope this is the one that ends up being true, because it's 34-year-old Kate Beckinsale that the Daily Express is touting to take over the T&A role made famous by Jane Fonda.
The thing about Kate is she's not just viciously sexy, she's also classy, and a low-brow project like this one needs all the class it can get. I could probably also list a lot of other bogus reasons why I think she'd be perfect for the part, but the truth is I just want to see her wearing as few clothes as possible, and this happens to be the best way I can think of to get it.
The rumor says she's a frontrunner for the part, which means she's just one of the names on a list in producer Dino Del Laurentis' pocket. It's actually a little early in the whole Barbarella process to being casting. They've just hired someone to write the script. I doubt Kate or any other actress worth having would take the job before getting a look at what's on those still to be written pages.
The original Barbarella was the 1968 equivalent of softcore porn, with Jane Fonda as an oversexed woman living 40,000 years in the future. She's sent on a mission to save the world, and in the process keeps losing pieces of her clothing. Now just imagine Kate Beckinsale losing pieces of her clothing, and you'll see why remaking it is such a fantastic idea. Sorry, I really should be better than this. I blame the internet.
Your Daily Blend of Entertainment News
Thank you for signing up to CinemaBlend. You will receive a verification email shortly.
There was a problem. Please refresh the page and try again.