Katniss Loves Pita Video Is Dumb And Fantastic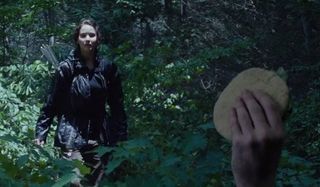 Sometimes the internet conjures up something that immediately provokes you to rise to your feet and clap in appreciation. Most of the time it involves a cat being a dick. But on this rare occasion, one nifty YouTube video has decided to riff on the rather ridiculous name of Josh Hutchinson's character in The Hunger Games franchise to depict Jennifer Lawrence's Katniss Everdeen repeatedly, and loudly, declaring her love for pita, not Peeta. It's stupid. It's ridiculous. It's also really, really funny.
Well played, internet. Well played, indeed. For some inexplicable reason, especially since the video is basically just the same joke being told over and over and over again, the gag just gets funnier with each passing cut.
Maybe it's just because the world loves Jennifer Lawrence so damn much, and everything that's even remotely connected to her instantly manages to go viral, but the clip, which was created by the good folks over at PistolShrimps, has now been watched over 782,000 times in just four days.
Personally, my favorite section of "Katniss loves Pita" is the appearance of Philip Seymour Hoffman. But only because I'm a big softy. Just seeing Big Phil on screen again in anything makes my heart instantly warm and improves my day exponentially. I mean, just look at the great man, and his pita.
Some of you will have already noticed the similarity between this video and "Ryan Gosling Won't Eat His Cereal," a series of Vines created by Ryan McHenry that entranced the internet a couple of years ago. It was as equally as dumb and fantastic as "Katniss loves Pita," while it was also just as ingeniously created, too.
Unfortunately, Ryan McHenry passed away from cancer at the criminally early age of 27 earlier this year. And in memoriam of the canny YouTube sensation, Ryan Gosling decided that it was finally time to eat his cereal.
Fingers crossed that Jennifer Lawrence does something just as memorable in response to this pita video. Because even though footage of the Oscar-winning actress eating a pita sounds like it would be the dullest video to ever be created, people will still obviously watch it in droves.
Your Daily Blend of Entertainment News
Thank you for signing up to CinemaBlend. You will receive a verification email shortly.
There was a problem. Please refresh the page and try again.