Kevin Spacey Breaks Fingers In Father Of Invention Trailer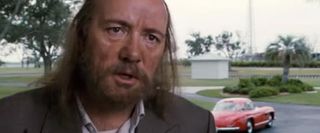 We first heard about Father of Invention over two years ago when Kevin Spacey attached himself to the piece as a star and producer. Maybe the slowest production cycle ever, Father finally is getting around to being released and it looks like it might actually be pretty funny.
The story follows Spacey's Robert Axel, a billionaire inventor whose latest creation, ab cruncher/remote control hybrid the Ab Clicker, very easily and often breaks people's fingers, creating lawsuits that send him to prison for eight years. When he returns from his incarceration, he finds his ex-wife remarried, his money gone, and his life as he knew it has vanished. Inspired by his daughter, played by Camilla Belle, Axel aims to turn his life around by creating his greatest invention yet--himself. Scope out the new trailer below courtesy of Hulu.
As you can see, the comedy team Spacey put together is compact, but very strong. Spacey himself has always been able to handle the comedy/drama mix with ease, and surrounding himself with the likes of Virginia Madsen, Johnny Knoxville, and The Office's Craig Robinson means that this will most definitely be a comedy with a lot of heart, and that we should look out for it when it finally hits theaters later this year.
Spacey has been kind of flying under the radar in recent years, making only a few appearances, so it's nice to see such a talent getting back in to the leading roles he was meant for. Hopefully Father of Invention will help Spacey return to form as one of the leading actors of our time.
Your Daily Blend of Entertainment News