Kick-Ass 2 Will Feature Villainess Mother Russia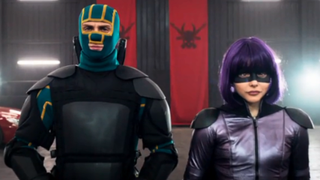 (Image credit: Universal Pictures)
With Kick-Ass 2: Balls to the Wall set to shoot this September, casting agents are on the search to fill out the sequel's new cast of characters. Kick-Ass stars Chloë Grace Moretz, Aaron Johnson and Christopher Mintz-Plasse have entered into negotiations to reprise their roles as Hit Girl, Kick-Ass, and Red Mist respectively. But in the second book of Mark Millar's gruesome graphic novels, the less than impressive villain Red Mist steps up his game, becoming the far more menacing Motherfucker. Part of his new image is a brawny bodyguard known as Mother Russia, and Moviehole has unearthed casting specs that reveal this combative comrade will be making an appearance in Kick-Ass 2: Balls to the Wall.
Of course, as you can see in the images above, Mother Russia is an exceptionally large lady. So, casting her could prove a tall order. The rundown circulating right now declares casting directors are searching for an "extremely tall, large, fit" woman somewhere between 25 to 40 years old, and describe the character as:
Since being tall in Hollywood can be a liability for leading ladies (it's feared they make short male stars look less imposing/impressive), it'll be interesting to see who will go out for Mother Russia. The top of my list would be Gwendoline Christie, who plays the mighty female knight Brienne of Tarth on Game of Thrones. While she's made up to be pretty brutish on the series, shots of Christie out of costume show she's not only big, she's incredibly beautiful.
Another hard heroine who could offer a powerful punch is professional mixed martial artist turned action star Gina Carano, who dazzled critics with her raw bravada in Steven Soderbergh's gritty thriller Haywire. However, as a slightly less conventional—and dare I say ballsy—choice, I'd suggest hard-rockin' frontwoman of the band Storm and the Balls, Storm Large. She's 6 foot tall, and is a badass ass-kicker of the first degree, famously not taking shit from anyone—not even Tommy Lee on the reality competition Rock Star: Supernova. Basically, casting Mother Russia is a unique opportunity to give a less conventionally beautiful and more muscular actress a shot at stardom, and I'm genuinely hoping director Jeff Wadlow takes this chance to go big, bold and badass!
Your Daily Blend of Entertainment News
Staff writer at CinemaBlend.