Kick-Ass Writer Jane Goldman Added To X-Men: First Class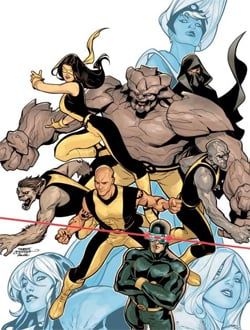 The foundation has officially been set for the next installment in the X-Men series to return to form and start kicking ass, literally. Just last week we found out that Kick-Ass director Matthew Vaughn had signed on to direct X-Men: First Class, which in itself breeds tremendous hope, but now Kick-Ass and Stardust co-writer, Jane Goldman, has been added to the bill.
The news comes down from the ever reliable twitter as Goldman's husband Jonathan Ross had to sleep alone two nights ago since Goldman was off working on "X-Men 4". Of course there's always the very off chance that by X-Men 4 he could have been referring to the rumored Last Stand follow up that has been kicking around for a while, but all signs point to Goldman reteaming with long time writing partner Matthew Vaughn and knocking X-Men: First Class out of the park.
The movie has had a bunch of other writers tossed in its general direction, but few have stuck. Newbie writer Jamie Moss and veteran TV writer Josh Schwartz are listed as the film's primaries, with Thor co-writers Ashley Miller and Zack Stentz on the bill for rewrites. But the history between Goldman and Vaughn suggests that their run will become the shooting script.
First Class will start shooting very soon with a targeted release date of June 3, 2011 so they'll have to get their butts in gear. The Vaughn/Goldman pair have yet to fail to make a great movie, despite their inability to really find a mass audience. Stardust and Kick-Ass will be cult classics and it's high time Vaughn gets recognized for his skill.
Your Daily Blend of Entertainment News
Thank you for signing up to CinemaBlend. You will receive a verification email shortly.
There was a problem. Please refresh the page and try again.