Kill Your Darlings Director John Krokidas, On The Nine-Year Odyssey To Make His Feature Debut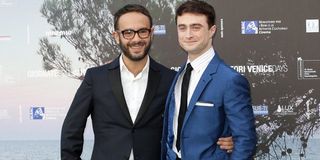 "When someone tells you not to be that ambitious, at least me, my first gut reaction is 'I can prove them wrong.' "
That's John Krokidas talking, the writer and director of Kill Your Darlings, but it just as easily could have come from Allen Ginsberg, the central figure of Krokidas's feature directing debut, played as a curious but ambitious college student by Daniel Radcliffe. Krokidas wrote the script with his college roommate Austin Bunn and spent nine grueling years trying to get the film made, frequently reminded that a period piece from a first-time director was no easy sell. After bringing his NYU thesis short film Slo-Mo to the Sundance Film Festival in 2002, "I vowed to come back two years later with my first feature," Krokidas says. That film was Kill Your Darlings. It premiered at Sundance 11 years later.
I met John Krokidas for coffee on the Upper West Side of Manhattan just a week after this year's Sundance Film Festival, where he was staying at a friend's house and still recovering from the whirlwind of the festival. The film earned plenty of attention as "the Daniel Radcliffe gay sex movie," featuring one brief scene of Allen Ginsberg's first gay sex experience, but had plenty of rave reviews in its own right, capturing the energy bordering on insanity of the early Beat movement, when Ginsberg and Jack Kerouac and William S. Burroughs first met and experimented with the drugs and music and literature that would lead them to start a revolution. The actual crux of the story, though, is Lucien Carr, a student at Columbia with Ginsberg who introduced him to Burroughs and Kerouac and who was an writer in his own right until he murdered a man named David Kammerer, and it changed his life.
Kammerer's murder, depicted in the press as an "honor slaying," was a largely secret part of the Beat origin story. Carr, Burroughs, Kerouac and Ginsberg all conspired to put the event behind them. "In the biographies there's always only one paragraph written about the murder," Krokidas explains. "It's almost like the Manchurian Candidate, because all of these paragraphs are written exactly identical to each other." Carr was convicted of manslaughter and served a brief 2-year sentence in jail, and only after his death in 2005 were two key texts about the murder made available to the public-- the short story "And the Hippos Were Boiled in Their Tanks," by Kerouac and Burroughs, and Ginsberg's own college journal. "They all waited until after Lucien passed away," Krokidas says, pointing out that Carr started going by "Lou" after the murder, married a woman and lived a fairly mundane life as an editor for the United Press International. "Once Lucien got out of jail, he made it a strict point that he wanted to live a normal life, the exact life that he was rebelling against a year and a half before."
The historical record is fuzzy on the precise nature of Carr's relationships with both Kammerer and Ginsberg. Kammerer essentially stalked Carr from St. Louis to New York, and was interested in Carr since he was a teenager, but Krokidas says he learned in his research that "there was much more to this relationship than was suggested in the biographies," and that Carr was often as attached to Kammerer as the older man was to him. "All it took was a couple of minutes of research to find out that Lucien got everyone in line-- Burroughs, Kerouac and Ginsberg-- to help him try to portray his relationship with David, which they all knew was a friendship and possibly a deeper relationship, as a relationship where David was a sexual predator." And though Ginsberg is one of history's most famous and outspoken gay writers, and called Carr his first love, it took Krokidas's research to uncover "a weird co-dependent relationship" that the two had for the rest of their lives. Regardless of the truth, Krokidas says, "it's Allen's need to see their relationship, and believing they were once in love, to give him the confidence to write his first story."
Radcliffe has earned plenty of attention, for Kill Your Darlings, and rightly so-- he does fine work to shed his boyish Harry Potter image, he's promoted the film relentlessly, and according to The New York Times he even personally closed the deal for the film's foreign sales rights. Krokidas insists that Radcliffe was his first pick for the role even after Jesse Eisenberg was cast as Ginsberg; "The financier at that time wanted to move really quickly on the film, so I chose my other first choice, which was Jesse." That earlier incarnation of the film, which would have had Chris Evans as Kerouac and Ben Whishaw as Carr, lost its funding, and not long after Eisenberg called Krokidas to say that, after The Social Network, "I think I need to play grown-ups now." Radcliffe still had two Harry Potter films left to go when Krokidas turned to Eisenberg, and when he dropped out the franchise happened to be finished. "I thought to myself, alright-- the role of Allen, in the beginning of the movie he's the dutiful son," says Krokidas. "The world only knows one color of his personality. But he knows he has so much more inside of him that he wants to express. Of course by the end of the movie, he's a rebel, he's a poet, and he finally gets the chance to open up and show the world all the emotions inside him that he's been hiding for so long. And I had a feeling Daniel Radcliffe would be able to relate to this."
Radcliffe jumped on board in late 2011, and despite sales agents who said he "couldn't open a movie without a wand in his hand," Radcliffe became the crux of finally assembling an indie project that had stopped and started so many times. "I knew he was an incredibly hard worker, and I had heard what a sensitive and smart person he was," says Krokidas, describing their first meeting as an hourlong meeting that turned into six. "But what I didn't know was that he had written some of his own poetry, and loves literature, and was attracted to this role not just on a career level, but on a very personal and intimate level as well."
Krokidas began building a cast around Radcliffe that included a number of buzzy up-and-comers, including Boardwalk Empire's Jack Huston as Kerouac, Martha Marcy May Marlene (and former Sundance sensation) Elizabeth Olsen as Kerouac's girlfriend Edie, Ben Foster as Burroughs and Michael C. Hall as Kammerer. But it's Dane DeHaan's performance as Carr-- alternately sexy, chilly, pretentious and inspiring-- that kicks the film into a more intense, emotional gear, highlighting Ginsberg's intense attraction to him as well as Carr's own ambivalence about the attraction he feels in return. DeHaan, who starred in Chronicle and this year's The Place Beyond The Pines, read with Radcliffe, and as Krokidas describes it brought a laid-back confidence that's only barely present in his real-life personality. "Dan and I both looked at each other like 'Oh my God, do we just offer him the part right now?' What really sealed the deal and let me know that he could play it is after the audition, I said to him as you often do to an actor you're potentially interested in, 'So what's your life like the next couple of months?' And he just leaned back and with a shrug and a smile said 'I don't know, you tell me.' It was that moment that we knew, OK, that seductiveness and cockiness was there."
He doesn't say it out loud, but it's very likely Krokidas borrowed some of that bravado when he stepped on the set, tapping back into the knowledge he'd learned in film school 12 years earlier and grappling with an absurdly shoot 24-day shooting schedule, not only wrangling his large cast but transforming New York City to match the 1944 setting. "The thing about doing a period piece for no money is it's not what you can frame, it's what you can't frame," he says, explaining how they shot a key scene by the banks of the Hudson River way uptown in Inwood, with both DeHaan and Hall descending into the frigid water. "Before we started filming, to build that level of trust, I told them I wouldn't ask them to do anything that I wouldn't do myself. I just exposed them to my confidence and everything that I was afraid of." And the first-time director also got some advice from Radcliffe, who worked with a series of different directors and a massive, experienced crew for his entire childhood on the Harry Potter set. "Dan did say to me, though, he gave me a good lesson-- when the shit hits the fan during production and very one's falling apart or nervous or worried they won't get the scene, I did have to be the leader, and I did have to be confident. And one of the ways I did that was to think of all of my friends, who were just if not more talented than I am, who still haven't gotten their shots. To be honest, that worked."
Since Sundance Krokidas has traveled the globe with the film, to festivals in Cannes and Venice and Toronto, enjoying a spotlight and rave reviews for a film he says was born, primarily, out of anger. "In order for me to write anything, there was to be something that pisses me off. When I learned that in 1944 you could literally get away with murder by portraying your victim as a homosexual predator, it infuriated me." Krokidas was also inspired by Ginsberg as a teenager, like millions of other teens, but particularly as a closeted 17-year-old living in suburban Connecticut. "Reading Allen Ginsberg-- he wrote decades before, but he was so explicit about his sexuality, his emotions. He really put his gut into his art, and dare I say his semen out there. And how attractive is that to a closeted 17-year-old who's really afraid to express himself?" A major thread in Kill Your Darlings has Ginsberg and Carr reading and reveling in books so naughty they were banned by the Columbia library, an experience Krokidas had himself with Ginsberg's own work. "I remember sitting in a college library reading Reality Sandwiches, and I was reading it like it was a dirty novel. I didn't want other people to see." Carr gave Ginsberg the ambition to write what seemed forbidden and impossible to him. And Ginsberg did the same for Krokidas.
(Photo of John Krokidas with Daniel Radcliffe via ChinellatoPhoto / Shutterstock.com)
Staff Writer at CinemaBlend