Kristen Stewart And Julianne Moore Will Head Into The Backwoods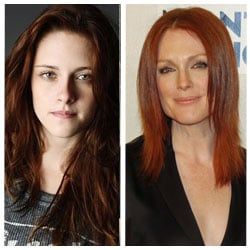 Kirsten Stewart is going into the woods with Julianne Moore, the backwoods that is. As reported by THR, Backwoods is an end-of-the-world movie that will begin shooting at some point this summer. The man behind the lens? Moore's husband Bart Freundlich.
When asked about what Fruendlich can get out of her that no other director can while promoting her upcoming film Chloe, Moore joked, "accessibility." She continued, "I know this because I'm married to a director; sometimes it's impossible to get to actors." Accessibility clearly wasn't an issue in Stewart's case. She's currently busy promoting The Runaways and will soon be consumed by yet another Twilight film before delving into Backwoods.
Unfortunately the article doesn't contain much plot detail, but the concept of Moore and Stewart joining forces is fantastic in itself. Giving the union even more potential is that both have experience working with Freundlich, Moore in The Myth of Fingerprints, World Traveler and Trust the Man and with Stewart on Catch That Kid. Of course Stewart has come a long way since that 2004 kiddie action comedy, but the familiarity is a plus.
Staff Writer for CinemaBlend.
Your Daily Blend of Entertainment News
Thank you for signing up to CinemaBlend. You will receive a verification email shortly.
There was a problem. Please refresh the page and try again.