Lady And The Tramp Will Be First Disney Blu-Ray Release In 2012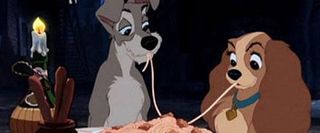 Looks like Lady and the Tramp will get the 'win' for the first Disney Diamond Edition release in 2012. The cute little story about a lady dog and a street smart male tramp who end up hooking up was originally restored and released on DVD back in 2006, but has been vaulted since 2007. Disney will bring Lady and the Tramp to Blu-ray, as well as re-release the title on DVD on February 7, 2012.
A few months back, Disney revamped Bambi, giving the movie a brand new set of interactive games and retrospective features. The Beauty and the Beast revision, too, boasted some excellent visuals, with the menu including a virtual tour of the Beast's mansion. Since Lady and the Tramp was recently enhanced for DVD, I don't know how much work the company will put in to a visual release; however, Disney seems hellbent on bringing fans some new bonus features.
Some features from the 2006 DVD will be included in the Lady and the Tramp Diamond Edition, like the "Bella Notte" music video, an art of the storyboard featurette, "Lady's Pedigree: The Making of Lady and the Tramp," and a "Puppypedia" segment, several others are brand new. Disney's second screen will bring purchasers an "Inside Walt's Story Meetings" featurette, as well as audio commentary from Walt. Three brand new deleted scenes, a never recorded "I'm Free as the Breeze" track, and the original storyboards and trailers will also be included in the 2012 release.
If you already own a copy of Lady and the Tramp, the Blu-Ray may not be enough to entice you to re-purchase. However, if you don't own a copy, just try to remember how likeable the getting-to-know-you love story is in the film. Spaghetti, anyone?
Walt Disney's Cinderella Diamond Edition is also set for a 2012 release. Cinema Blend will be sure to keep you posted.
Your Daily Blend of Entertainment News
Thank you for signing up to CinemaBlend. You will receive a verification email shortly.
There was a problem. Please refresh the page and try again.