Lilo & Stitch Live-Action Movie: What We Know So Far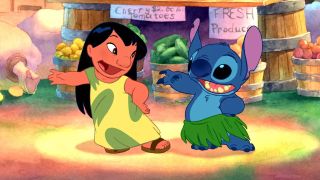 (Image credit: Walt Disney Animation)
When it comes to movies from my childhood that have shaped who I am as a person, I always think of Disney movies. Whether they be from the Disney Renaissance or from the 2000s Disney movies, truly, they have been key factors involved in making me who I am today and mean so much to me in my heart. And one of those movies just happens to be Lilo & Stitch.
The 2002 movie released from Disney became a popular movie for fans over time, and ended up spawning off some sequels as well as a whole television series. And now, Lilo & Stitch is going to be getting its own live-action movie, like many other popular Disney movies have gotten in the last decade. But who is going to star in the new Lilo & Stitch movie? And when is it coming out?
Here is what we know so far about the upcoming live-action adaptation of Lilo and Stitch.
What Is The Lilo & Stitch Live-Action Movie Release Date?
At this time in March 2023, we do not know when Lilo and Stitch is set to release.
The film was actually originally reported to be in the works back in 2018 by The Hollywood Reporter, not long before the live-action version of Aladdin came out in May 2019.
In another The Hollywood Reporter article regarding a casting decision, it was reported that the new live-action Lilo and Stitch is going to come out on Disney+, which would follow in the tracks of other live-action remakes such as Lady and the Tramp, Pinocchio, and the upcoming Peter Pan & Wendy. It'll certainly be awesome to see it come straight to my television, but a part of me also wishes it would come out in theaters.
Since news on the film has been pretty limited, we probably won't be seeing it on the 2023 movie release schedule.
Zach Galifianakis Is Set To Play A Role
If you were wondering who is going to be in the movie, so far, the main roles of Lilo and Nani (her older sister) have not been cast yet. In The Hollywood Reporter article above that goes over casting, it's confirmed that a wide search is being conducted in order to find the perfect actresses to play Lilo and Nani. Stitch is going to be CGI.
However, one piece of casting that we can confirm is that Zach Galifianakis has been cast in Lilo & Stitch. There hasn't been any confirmation yet of who he is set to play, but The Wrap has reported that he's been cast to play Pleakley, an alien and an agent that comes down searching for Stitch in the film.
Personally, I think it'd be great if he is playing Pleakley because he just has that certain tone that would be perfect for the alien for fans who know him from not only the movie but the show. Galifianakis has done plenty in movies and television, with his most recent credit being a voice role in The Bob's Burgers Movie, so it'll be great to see him in another role where he'll really get to use his voice a lot. And I for one also can't wait to see who is casted as Lilo and Nani.
The Film Will Be A Live-Action Adaptation Of The 2002 Movie Of The Same Name
THR's article about Zach Galifianakis' casting in the movie describes this as a remake of Lilo & Stitch, so it may be safe to expect that the new film will re-introduce us to the main characters of the original animated movie.
For those who don't know what Lilo & Stitch is about, the story is set in Hawaii and follows a young girl, named Lilo, who is under the care of her older sister, Nani, after they lost their parents. Lilo isn't like most girls and feels as if she has no one and only wants a best friend, while her sister is constantly trying to learn to take care of Lilo and learn to be a parent at such a young age.
One day, Stitch appears, named Experiment 626, in a crash landing and is taken into a dog pound – and Lilo ends up adopting him and naming him "Stitch." So begins the legend of Lilo & Stitch.
The story is honestly one of my favorites that Disney has ever done, and teaches the value of family and how you can find love like that from anywhere, even from an alien as strange as Stitch is. And out of every live-action remake, I think this one has the best chances of succeeding because it's such a warm message.
Dean Fleischer Camp Will Be Directing
If you were wondering who was going to be directing the film, we have an awesome piece of news here. According to Deadline in 2022, it was confirmed that Dean Fleischer Camp is set to direct the upcoming feature.
Marcel The Shell With Shoes On Review: Did My Heart Seriously Just Break For A Shell?!
Previously (in November 2020), according to The Hollywood Reporter, Jon M. Chu (the director of Crazy Rich Asians) was in talks to direct, but now the film is in the hands of Dean Fleischer Camp.
The director is primarily known for his direction with the short films, including Marcel the Shell with Shoes On, which he recently adapted for the big screen. The film was nominated for Best Animated Picture at the 2023 Academy Awards, and is one of the best films of 2022 overall, so it's awesome to see him announced as the director for such a big film like Lilo and Stitch. I can't wait to see what he does next.
Chris Kekaniokalani Bright Wrote The Script
Last but not least, one of our last pieces of news is that we know who is going to be penning the script. According to The Hollywood Reporter article above regarding Galifianakis' casting, it's been confirmed that Chris Kekaniokalani Bright wrote the script for the adaptation.
With so much great news regarding this live-action, I have a feeling that the Lilo & Stitch adaptation is going to be one of Disney's best films in years. I can't wait to see the beautiful landscape of Hawaii again, but more importantly, see Stitch make literally everyone's lives crazier than ever. That's my ohana, right there.
Your Daily Blend of Entertainment News
Big nerd and lover of Game of Thrones/A Song of Ice and Fire. Will forever hate season eight. Superhero and horror geek. And please don't debate me on The Last of Us 2, it was amazing!