Larry David To Develop A Movie For Greg Mottola To Direct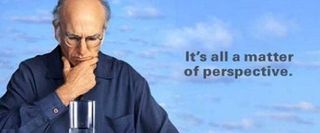 And here we thought the best Greg Mottola news for this week had already happened. The Adventureland and Superbad director signed on just yesterday to adapt the novel The Marriage Plot for producer Scott Rudin, but he's wasted no time in making headlines again. THR reports that Mottola is in negotiations to direct Larry David in an untitled comedy project set up at Fox Searchlight, which like David's show Curb Your Enthusiasm,/I>, will follow an improv-based storyline.
With HBO still occasionally producing and airing new episodes of Curb, it seems unlikely the Searchlight project will have anything to do with the show, though it's also hard to imagine David starring in an improv-based comedy as anything other than a Larry David character. David came up with the idea for the film and he's hammered out the story with Alec Berg, Jeff Schaffer and David Mandel, all of them Curb veterans who have worked with David going all the way back to their days on Seinfeld. All three also worked with Sacha Baron Cohen on The Dictator, which might be the best model for how this kind of partly improvised comedy will work.
David has always ben very particular about when and how he chooses to work, making new Curb seasons only when he feels like it, and only appearing in a handful of movies, playing a Woody Allen surrogate in Whatever Works and, well, playing a nun in The Three Stooges (we still can't really explain that one). And though Mottola never worked on Curb, he's got TV experience from shows like Undeclared, Arrested Development and the upcoming The Newsroom, so his balance of TV and movie experience may be ideal here. We'll have to see how this film fits in with his Marriage Plot plans, but both projects are so exciting we have to just assume they'll both work out somehow.
Staff Writer at CinemaBlend
Your Daily Blend of Entertainment News
Thank you for signing up to CinemaBlend. You will receive a verification email shortly.
There was a problem. Please refresh the page and try again.