Leonardo DiCaprio Could Go Western For Todd Field In The Creed Of Violence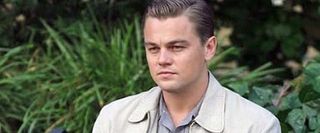 Though the jury is still out on whether this weekend's Cowboys & Aliens will be a financial success for Universal, the movie has decidedly mixed-verging-on-terrible reviews, currently sitting at 44% on Rotten Tomatoes. So why is this the weekend that Universal is apparently trying to get back into the Western business? I guess the name Leonardo DiCaprio goes a long way toward explaining that. The LA Times reports that DiCaprio has started to express interest in The Creed of Violence, an adaptation of Boston Teran's 2010 novel about a criminal attempting to sneak weapons into Mexico who is captured by a government agent instead. The movie technically wouldn't be a Western, being set a little too far into the 20th century, but that didn't really stop anyone from making Western comparisons on There Will Be Blood, now did it?
Oddly enough, In The Bedroom and Little Children director Todd Field has been attached to the project for years, apparently planning what looks like a major shift from the tone of his previous works. It appears Field is the one who has offered DiCaprio one of the two lead roles, either the bad guy or the government agent. It's also unclear when they plan to move forward with the film given DiCaprio's commitment to Quentin Tarantino's next film Django Unchained, in addition to recent talk that Paul Greengrass might soon come aboard The Deep Blue Good-By, a detective film that DiCaprio is attached to. The guy is pretty much constantly in demand, and it's kind of a wonder he manages to work out his schedule at all.
The entire premise sounds far more like a traditional Western than Cowboys & Aliens, of course, and more along the lines of smaller dramas like 3:10 to Yuma, which did pretty well for Lionsgate in 2007. DiCaprio has done his share of period movies, but no Westerns, which makes this idea all the more intriguing. I'm an apologist for his work in general, but this movie in particular sounds like something worth catching.
Your Daily Blend of Entertainment News
Thank you for signing up to CinemaBlend. You will receive a verification email shortly.
There was a problem. Please refresh the page and try again.