Leonardo DiCaprio Slept Inside An Animal Carcass Because He Never Phones It In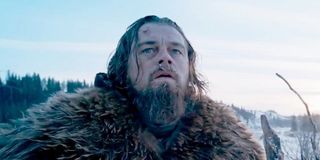 No one is going to accuse Leonardo DiCaprio of phoning it in anytime soon. There's that well documented incident during Django Unchained where he seriously cut his hand during a scene but kept on going — the shot made it into the finished film. However, he apparently took this dedication to even greater lengths for his latest movie, The Revenant, and he actually slept in an animal carcass.
Set on the unforgiving frontier of the 1820s, The Revenant is a grim story of revenge and survival, and talking to Yahoo, DiCaprio reveals that the shoot was no picnic either. He says that he had to do some of the most difficult things he's ever done on set in pursuit of authenticity, and that includes sleeping inside of an animal corpse.
The actor, who is still fishing for that Academy Award win that has eluded him despite widespread critical acclaim, doesn't specify exactly what kind of animal carcass he slumbered in, like Luke in a Tauntaun, but it must have been rather large. In the movie there are buffalo, horses, and of course that bear that mauls his character, any of which has plenty of room to fit your standard Hollywood actor, maybe even some guests.
To be honest, though that's a pretty extreme example, it's not terribly shocking to learn that shooting The Revenant was a tough job. This meshes with what we've heard before, about how Birdman director Alejandro González Iñárritu pushed the cast and crew to the brink of safety, and possibly beyond. In fact, a number of behind the scenes players actually left the production due to concerns over their wellbeing.
Leonardo DiCaprio spent nine months in the wilderness of Canada and Argentina filming The Revenant, battling the elements, much like the character he plays. Freezing and isolated, he and the rest of team battle hard conditions that had them on the verge of hypothermia — and the actor got the worst of it, having to dive into frozen rivers and being strung to an elaborate harness for the bear mauling scene. From what we've seen of the film, however, it looks totally worth it, though that's easy to say from where I sit.
DiCaprio stars as Hugh Glass, a real-life frontiersman and trapper. After being attacked by the aforementioned bear, his fellow travellers, including John Fitzgerald (Tom Hardy), leave him for dead. When Glass wakes up, buried alive, the sets out on the hazardous journey back to civilization, and revenge on those who left him to die.
The Revenant certainly has the potential to be incredible. As bleak and grim as it is, it once again sees Iñárritu team up with acclaimed cinematographer Emmanuel Lubezki, and last time they got together, we got a movie that was filmed to look like one continual shot. Can't wait to see what they have in store this time, if nothing else it will be gorgeous.
The Revenant opens in limited release on Christmas Day and goes wide on January 8, 2016.
Your Daily Blend of Entertainment News
Thank you for signing up to CinemaBlend. You will receive a verification email shortly.
There was a problem. Please refresh the page and try again.