What Tom Hardy Would Look Like As Wolverine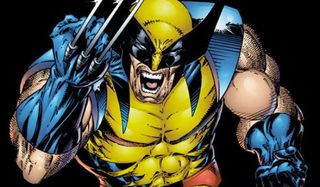 Hugh Jackman may only have a few years ahead as Wolverine, but the man who has embodied Logan for all these years has had a hard time letting go. Finally, Hugh Jackman opened up about the idea of a new, younger Wolverine filling his adamantium claws, and there was one specific actor that Jackman thought would fit the role well--Tom Hardy. So of course, the internet answered, mostly in agreement, and one fan even went so far as to create an epic image of what this new casting could entail. Take a look:
The image itself posted by Twitter user BossLogic, is absolutely stunning. And from the looks of it, Tom Hardy certainly could pull off a badass Wolverine. It's not that far-fetched of an idea either. Jackman's fellow Aussie action star has been building up quite the resume in the past few years. From scoring the role of Bane in Christopher Nolan's The Dark Knight Rises to his recent role as Max Rockatansky in Mad Max: Fury Road, the 38-year-old actor has had no problem finding his way to the spotlight.
But while Tom Hardy certainly has his plate full when it comes to action heroes, it seems silly not to acknowledge how well he does pull off the look of Wolverine in the photo above. He arguably looks more true to the comic book character than Hugh Jackman himself. Jackman not only had a number of inches on the iconic mutant, but also wasn't quite as wide. We've seen how jacked Hardy has gotten for roles such as Bane, so we know he could easily pull this off:
We can't be sure what direction the X-Men franchise will want to take this beloved character once Hugh Jackman leaves the throne. Considering Wolverine's aging process though, it was time that Jackman leave the seat, and Tom Hardy is just young enough (but not too young) to take over those reigns gracefully.
As for Jackman's final soiree as the cigar-smoking hero, we've still got a couple years until we have to let go for good. We can look forward to seeing him come May 27th, 2016 when he hits the screen in X-Men: Apocalypse and the final chapter, Wolverine 3 on March 3, 2017. Until then, Hardy's got plenty on his plate to keep him occupied with Oscar-winning director Alejandro G. Iñárritu's newest film The Revenant as well as the starring role British drama miniseries Taboo.
Your Daily Blend of Entertainment News
Thank you for signing up to CinemaBlend. You will receive a verification email shortly.
There was a problem. Please refresh the page and try again.