Liam Neeson Will Voice An Evil Raccoon In The Nut Job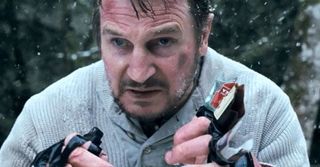 Typically, when we hear that Liam Neeson is being attached to a crime-centered movie, we here at Cinema Blend tend to fist pump in anticipation of seeing him sneer at a bad guy before pounding some scowling scoundrel into submission. Because that's what you get for messing with Liam Neeson!
But the latest casting news from THR reveals a change-up in our expectations as Neeson has signed onto to a crime comedy cartoon, in which he will voice the role of a villainous raccoon. Sounds good to us! (Really, any Neeson, is good Neeson.)
Based on the short film Surly Squirrel, which you can see here, The Nut Job follows a cantankerous squirrel whose been banned from the city park because of his bad attitude. To survive the winter, he and his fellow outcasts will need to pull off a risky heist, robbing Maury's Nut Store.
This movie marks the feature directorial debut of Peter Lepeniotis, who helmed Surly Squirrel, and is also the first feature-length film produced by emerging animation studio ToonBox Entertainment. Penned by Brother Bear scribe Lorne Cameron, this animated adventure's strongest asset appears to be a voice cast that includes not only Neeson but also Will Arnett (as Surly), Brendan Fraser, Jeff Dunham, Katherine Heigl, Avatar's Stephen Lang, and Cosmopolis' Sarah Gadon.
For better or worse, The Nut Job will be a defining debut for ToonBox Entertainment. Will it prove them to be on the level of Pixar and DreamWorks? Or will it show their team to be on the second-tier with the makers of Gnomeo & Juliet and Hoodwinked? We'll find out within the year, as The Nut Job is expected to hit theaters in 2013.
Staff writer at CinemaBlend.
Your Daily Blend of Entertainment News
Thank you for signing up to CinemaBlend. You will receive a verification email shortly.
There was a problem. Please refresh the page and try again.