The Lion King 1 1/2 And 2 Get The Chance To Shine On Blu-Ray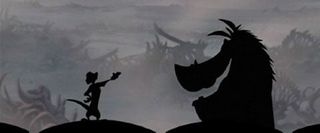 Just a few months after The Lion King earned its first Blu-ray release, The Lion King sequels, both 1 ½ and 2 are being reshaped for Blu-ray. Not that I'm advocating if you already own a DVD copy of the two sequels to jump out and buy them on a new format. Disney is just lucky to always have a crop of new youngsters ready and willing to jump, hop, and skip all over these Blu-ray releases. That being said, if you are wanting to purchase The Lion King 1 ½ or 2, the Blu-ray may be a good bet.
Both sets are pretty laden with bonus features. The more recent The Lion King 1 ½ - which follows the story of Timon and Pumbaa's friendship origins – will come with a music video from Raven, a featurette called "Timon and Pumbaa's Vacation Safari," a mockumentary about Timon's childhood, and 7 deleted scenes with introductions from Director Bradley Raymond and Producer George Mendoza. A really cute featurette where Raymond and Mendoza are silhouetted onscreen during the film to walk viewers through it will also accompany the new set. If you haven't caught it, The Lion King 1 ½ is really one of the better Disney sequels.
The Lion King 2 is not a prequel like 1 ½. Instead, the adventure follows Simba as a grownup and his daughter, Kiara, as they try to save the pride land. The big draw for the new release of this film is the new animated Timon and Pumbaa short accompanying the set. A "making of" segment, a music video for the song "Love Will Find a Way," and a Timon and Pumbaa Q & A segment will round out the features for this release. It's surprising that many of the features with The Lion King 2 involve Timon and Pumbaa, but they are extremely popular characters, so maybe they are more of a draw.
Both sets will hit the market on March 6. However, currently, both sequels are available (opens in new tab) with The Lion King Trilogy, eight-disc combo set.
Your Daily Blend of Entertainment News
Your Daily Blend of Entertainment News
Thank you for signing up to CinemaBlend. You will receive a verification email shortly.
There was a problem. Please refresh the page and try again.