Madagascar Penguins Take The Spotlight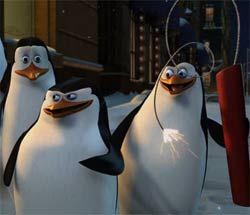 I was a little surprised when it was announced that the sequel to Madagascar would feature the return of the entire cast of the first movie. Stars like Chris Rock and Ben Stiller don't come cheap. Why pay for the entire cast when you can get by with significantly less? The penguin characters were popular enough for an animated short to accompany the DVD. Why not spin them off into a sequel as well?
It turns out, I had the right idea but the wrong medium. Moviehole is reporting that Nickelodeon and Dreamworks are pairing up to spin the popular penguins into an animated television series. An order is being placed for 26 episodes, scheduled to premiere on Nickelodeon in 2009, aiming straight at the kiddie target audience.
The series will star the four quasi-militant penguins of Madagascar, Skipper, Kowalski, Rico, and Private, as they undergo missions to keep the Central Park Zoo a safe and happy place. The missions take the penguins beyond the borders of the zoo and into the city, as well as puts the Penguins in conflict with a new rival: that lovable King Julien the lemur and his overactive entourage.
Most of the original voices for the series are being replaced, most noticeably, Sacha Baron Cohen who voiced Julien in the original movie. Instead the cast will feature Tom McGrath (returning as Skipper), Jeff Bennett (Kowalski), James Patrick Stuart (Private), John DiMaggio (returning as Rico), and Danny Jacobs as Julien.
Of course, I have to wonder – how is this deal being made? There's a strike going on right now, so there's nobody to pen episodes of the series. While that won't affect the series soon (especially with that 2009 release date), shouldn't it be even a slight cause for concern?
Your Daily Blend of Entertainment News