Maggie Gyllenhaal Joins Michael Fassbender In Music Comedy Frank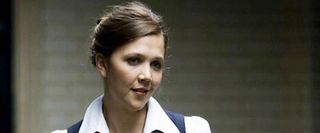 Neither Maggie Gyllenhaal nor Michael Fassbender are names that come to mind when casting for a comedy. So we're already curious about the smaller-budgeted Frank before a sing;e frame of footage is shot.
The Film Stage posts the news – confirmed by the Albuquerque Business Journal – that Gyllenhaal has joined the still-developing ensemble for the musical comedy, which also stars Domhnall Gleeson (currently burning up the screen in Joe Wright's Anna Karenina) and Scoot McNairy (currently burning up the screen in both Ben Affleck's Argo and Andrew Dominik's Killing Them Softly).
No word yet on the part Gyllenhaal would play, but Film Stage says that the story largely focuses on an aspiring rocker (Gleeson) who struggles to keep up with his bandmates when he joins an eccentric rock outfit led by Fassbender's character, Frank. The site speculates that Gyllenhaal would be a love interest for Fassbender. I'm really hoping that co-writers Jon Ronson (The Men Who Stare at Goats) and Peter Straughan (Tinker Tailor Soldier Spy) cook up something far more interesting for her, as she's way more capable of playing a deeper part than the "groupie" of an odd band.
Frank is in pre-production, and films in New Mexico in January. Lenny Abrahamson directs after amassing a slew of experimental titles on his resume, from Adam & Paul to Dublin 26.06.08: A Movie in 4 Days. Hopefully talents like Fassbender, Gyllenhaal, Gleeson and McNairy saw something unique and stimulating in Frank. We'll find out when the movie reaches theaters, possibly in the fourth quarter of 2013.
Movie junkie. Infatuated with comic-book films. ReelBlend cohost. Resident dad. Extroverted introvert. Wants to see the Snyder Cut. Managing Director at CinemaBlend.