Maleficent Is The Only Non-Superhero Movie To Cross $600 Million In 2014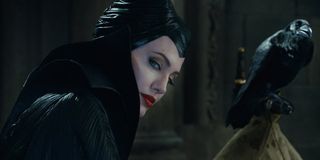 On an average summer at the movies, you'd see a healthy mix of properties raking in some serious money. With multitude of options one traditionally has during this time of year, records are broken left and right and the high water mark is usually set at a breakneck pace. Unfortunately, this summer's options haven't been as diverse as audiences would like, which has resulted in a glut of superhero films ruling the box office roost. However, there's one movie that's slowly worked its way to the top of the non comic book heap, and it's the only movie of its type to cross $600 million this summer: Angelina Jolie's Maleficent.
According to Box Office Mojo, the Disney fairy tale picture has just crossed the $600 million mark with an international gross of about $602 million. That's right, in the same summer that delivered us a YA literature hit overnight, several sequels to rather profitable franchises, and a surprisingly successful Godzilla reboot, Maleficent has somehow had the staying power to make itself a fixture at the 2014 box office longer than its contemporaries. So just what is Maleficent's secret? Some would say it's Angelina Jolie's star power, thus confirming her status as the last viable box office star. When you consider how star driven the international market is, and how big Angelina Jolie is with that same market, it's not that big of a stretch. Others would say it's the film's fairy tale retold approach to storytelling, and since that's one of two things still keeping Once Upon A Time on the air (besides the free marketing for films like Maleficent and Frozen that Disney can use the show to shill), that too is not a hard prospect to grasp.
Personally, I'd say it's the power of the Disney brand. Sure, the previous two factors definitely had a hand in the ultimate success of the film, but the advertising blitz a company like Disney can afford to launch puts any film in the forefront. Kind of like how Disney kept telling the world it wanted to see a new Pirates Of The Carribean film every couple of years so, Maleficent has been pushed big time through any venue that Disney could buy advertising for. And much like Johnny Depp and the Pirates Of The Carribean franchise, Angelina Jolie will probably be ready to return to the plate to knock another one out of the part for the Mouse House.
Furthermore, the person that profits from Maleficent's success, even more so than Angelina Jolie herself, is scribe Linda Woolverton. While her name isn't instantly recognizable, her film credits are full of Disney films that have gone on to spawn their own sequels. Homeward Bound: The Incredible Journey, The Lion King, Mulan, and even the recent Tim Burton remake of Alice In Wonderland are all credits to her career as a Disney magic maker. We'll see if her spell continues to keep the public, as well as the suits, in her grasp after they've seen her work on the Alice In Wonderland sequel, Through The Looking Glass. As for Angelina Jolie's spell, well it's probably a good thing that she's branching out as a director as a fall back. After all, even Johnny Depp makes a gigantic and costly misstep here and there.
Senior Movies Contributor
CinemaBlend's James Bond (expert). Also versed in Large Scale Aggressors, time travel, and Guillermo del Toro. He fights for The User.
Your Daily Blend of Entertainment News
Thank you for signing up to CinemaBlend. You will receive a verification email shortly.
There was a problem. Please refresh the page and try again.