Malin Akerman Updates On Medallion, Inferno And Serpent Girl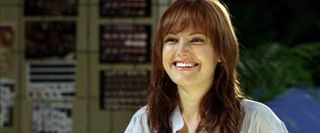 Malin Akerman may not have secured the role of Lois Lane in Zack Snyder's Superman, but the actress has absolutely nothing to be worried about considering she's already got a slew of upcoming projects on her hands. While talking about her latest film, The Bang Bang Club, at the Tribeca Film Festival, Akerman took the time to run through her laundry list of new projects including Medallion, Inferno: A Linda Lovelace Story and maybe one day Serpent Girl.
Medallion is the one she's working on right now, a bank heist action film with Nicolas Cage. Of course Cage had a little run-in with the New Orleans Police recently, but Akerman assures us that everything on set is business as usual. "There was a little moment of altercation there, but everything's worked out," she explained. "Production is still moving forward."
As for Lovelace, Akerman called that "the one that I'm really excited about." She explained that the film is about "her and her husband and their relationship behind the scenes." As we know, Chuck Traynor wasn't the nicest guy out there, responsible for putting Lovelace through a great deal of physical and emotional stress. Akerman is currently preparing by studying the lives of other battered women and exploring why they opt to stay or leave. "It's really complex and amazing." She assures us, "It's going to be an intense journey, but I'm super excited."
But Akerman isn't the only one taking this journey. Kate Hudson is also working on a Linda Lovelace film of her own. Clearly that film will come into direct competition with Akerman's, but Akerman noted, "I've heard that the scripts are very different" and in no way does she look at the situation as some sort of rivalry. In fact, she said, "Hopefully they'll both be wonderful films." She joked, "We'll have a Linda Lovelace love fest!"
Lastly Akerman touched on one production that's still rather up in the air, Matthew Carnahan's big screen adaptation of his book Serpent Girl. When asked if this one will finally come together, Akerman said, "I hope so." She continued, "It's an indie and sometimes it takes a while to put independents together." While it has been quite a while since Akerman last read the script, she did recall a little about her character, but I'll leave that out of this write-up as it treads into spoiler territory for those who haven't read the book.
Find out who Akerman will play in Serpent Girl and hear more about what she had to say about Medallion and Inferno: A Linda Lovelace Story in the clip below. Also, be sure to keep an eye out for the full interview with Akerman on The Bang Bang Club later this week.
Your Daily Blend of Entertainment News
Staff Writer for CinemaBlend.