Man Strips Naked In Front Row Of Alvin And The Chipmunks Screening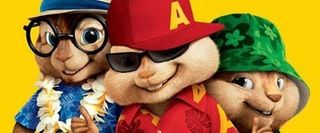 There are plenty of reasons to avoid seeing Alvin and the Chipmunks: Chipwrecked, namely your own self-respect and sanity after listening to 90 minutes of high-pitched Chipmunk screenings. So really, you could say that the patrons at a Chicago theater who paid to see Chipwrecked got what they deserved when a man sitting in the front row stripped naked during a 4 p.m. showing of the film. According to THR, 96 paying customers were witness to the unexpected show, at least until they were ushered out of the theater and offered vouchers while the offender, Edward Brown, was arrested.
As you might expect, his explanation for what he did is even wilder than the action itself; apparently Brown claims that a woman who worked at the theater promised him sex and drugs and told him to wait naked in the front row of the theater. The woman has yet to be found, and it's hard to know what's more implausible-- that an actual woman would do such a thing, or that Brown would make up this kind of story.
Everyone has a tale of something bizarre that happened to them in a movie theater-- in New York City, you're lucky to go to a matinee screening that doesn't have a homeless person sleeping in it. So even if the kids present at Chipwrecked were a little horrified at the time, they'll be able to tell the story for years to come-- and probably remember it much better than the movie itself.
Staff Writer at CinemaBlend
Your Daily Blend of Entertainment News
Thank you for signing up to CinemaBlend. You will receive a verification email shortly.
There was a problem. Please refresh the page and try again.