Maria Bello Marries Kevin James For Adam Sandler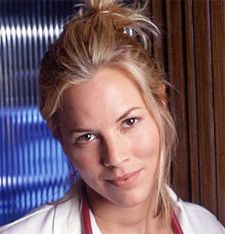 I remember when Kevin James was doing King of Queens, he talked in an interview about Leah Remini's weight loss, and how there reached a point where people were going to have a hard time believing he was with her. Frankly, that applies to most of Kevin James's movies. For an overweight schlub (albeit, a hilarious overweight schlub), James gets the babes.
Kevin James will most likely get another beautiful woman on his arm for the upcoming untitled Adam Sandler comedy. Actress Maria Bello is in final talks to join the ensemble cast which includes Sandler, James, Salma Hayek, and Saturday Night Live alumn Chris Rock, Rob Schneider, David Spade, and Maya Rudolph. Bello will play James's wife in a story about high school friends who reunite thirty years after they graduate, according to The Hollywood Reporter.
The untitled picture is being directed by Dennis Dugan, who was behind Sandler and James's last collaboration, I Now Pronounce You Chuck & Larry. Personally, I'm hoping this picture shows that one was a fluke, but anytime you add Schneider to the mix, you run the risk of the picture bombing. Still, I have to wonder what would draw Bello to a picture like this. Between her replacing Rachel Weisz on The Mummy 3 and signing on for an SNL fueled comedy, I wonder if Bello has forgotten just how talented she can be.
Your Daily Blend of Entertainment News