Mark Ruffalo, Rachel McAdams, Michael Keaton And More Join Priest Sex Abuse Drama Spotlight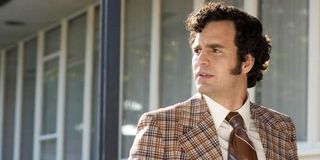 Most seem divided as to whether "issue" movies work, but bringing attention to a horrible tragedy is a reminder that history is what we make it. In certain circumstances, advocacy can be the difference between saving a life and ending a life, and if a movie regarding certain issues is big enough, those issues become conversation. Such is the case with the appropriately-titled Spotlight, the true-life story of reporters uncovering a massive priest sex-abuse case.
Deadline reports that Mark Ruffalo, Rachel McAdams, Michael Keaton, Aaron Eckhart, Liev Schreiber and Stanley Tucci will star in Spotlight. The film concerns a Boston Globe investigation into a Catholic priest abuse case that reveals a decade-long cover-up on the part of the church. Academy Award nominee Tom McCarthy wrote the script for the film along with Josh Singer, and Open Road is set to distribute the film, which is being made with the assistance of Participant Media. McCarthy, an actor, writer and director who has steadily moved behind and in front of the camera, should bring a sure hand and an even-keeled approach to the film. One of his strongest movies is the sweet-natured The Station Agent, which features Game Of Thrones star Peter Dinklage in a much more contemporary role.
The Spotlight Team of reporters that discovered this coverup and inspired the name of the new film includes Globe editor Marty Baron (Schreiber), Spotlight editor Robby Robinson (Keaton), and reporters Michael Rezendes (Ruffalo), Sascha Pfieffer (Rachel McAdams) and Matt Carroll, who uncovered a massive backlog of coverups when investigating what they thought was merely a local case. Tucci will play attorney Mitchell Garabedian, though its unclear who Eckhart would play right now. This is a hot cast who have done some substantial work lately: Ruffalo, a very politically savvy actor, appeared in HBO's recent The Normal Heart this year and in a few months will show up in Foxcatcher. McAdams, meanwhile, is excellent in the currently-in-theaters A Most Wanted Man . Keaton's set to be seen in Birdman, which is drawing strong pre-Oscar notices.
The question is, how will this movie work? Yes, it's a significant story that must be told, but how do you make it cinematically compelling when half of the audience is turned off by the story of pedophilia, and the other half is simply waiting for the reporters to come across the revelation that the cover-up extends beyond Boston? Furthermore, making a film where reporters who are heroic and priests are monstrous should be easy: you'll have to trust McCarthy can find the complex human dimension behind such a case, the humanity within the humanity, and take the appropriate risks to bring this tragedy to life. If it were anyone else, it would be questionable. Because it's McCarthy, it's a leading contender to be one of 2015's toughest and most compelling movies.
Your Daily Blend of Entertainment News