Mark Wahlberg Will Star In, Rename The Six Million Dollar Man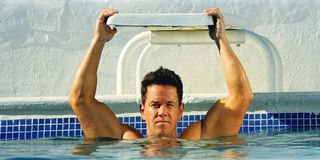 The Six Million Dollar man has been of those properties that's been subject to remake talk for literally decades. Thanks to technical advancements, sci-fi is always one of the hottest contenders for new age treatments and the '70s television series is prime fodder for Hollywood to screw with. Whether you're too young to remember the original or not, it's huge news to hear of The Six Million Dollar Man's revival, especially when you learn of who could potentially play the lead and what the hell they're going to rename it.
In a recent post on Deadline, the site reports that Mark Wahlberg is planning on re-teaming with his Lone Survivor director, Peter Berg, to adapt The Million Dollar Man as a Weinstein Co. feature. Berg will naturally direct, while Marky Mark will appear as astronaut Steve Austin who, after a horrific crash of an experimental plane (practically ripped right out of today's headlines), is saved by doctors when he is fitted with bionic replacements. Back in the '70s the procedure would have cost millions, but it looks like the Weinstein Co. are adjusting their movie for inflation (maybe?) as this remake won't be called The Six Million Dollar Man. No siree. It will be The Six BILLION Dollar Man. That's Billion with a B.
As per the original series, Austin's legs, arm and eye will all be bionic, inadvertently giving him super-human powers with which he helps aid the Office of Scientific Intelligence. It goes without saying that Wahlberg sure as hell has the muscle to pull off such a role, but I just can't get over how expensive the treatment will be to transform him into the beloved cyborg. Why the extortionate price increase? If we are talking about inflation, then surely "The $32 Million Man" would be more accurate? Is Wahlberg really worth all those extra zeros or is there some way to blame Obamacare for this medical malpractice?
Photography on The Six Billion Dollar Man is expected to begin some time in 2016, but given that Mark Wahlberg is already committed to the comedy Daddy's Home opposite Will Ferrell, as well as Deepwater Horizon (about the BP oil spill) and the TNT/Paramount television thriller Shooter, it's anyone's guess when it will hit theatres. Hell, by that time it might even has upped its game to "The Sixty Billion Dollar Man."
Your Daily Blend of Entertainment News