The Martian Trailer: Watch Matt Damon And NASA Lead An Impossible Rescue Mission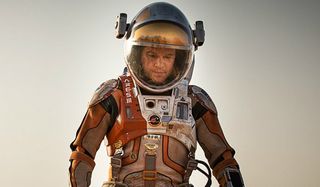 After a batch of new images and a viral video teaser for the Matt Damon-led, Ridley Scott-directed space film hit the web, the Martian trailer is finally here in all its luster and wonder. Apparently, Damon didn't log enough hours as an astronaut in Christopher Nolan's Interstellar, but this more then makes up for it, as he plays an explorer trapped by his lonesome on Mars. Watch the first footage below.
The Martian trailer layers a star-studded cast over its depressing centerpiece, including Damon's Interstellar buddy Jessica Chastain, Chiwetel Ejiofor, Kristen Wiig, Jeff Daniels, Kate Mara, Donald Glover and Sebastian Stan. The story follows a group of astronauts investigating the Red Planet, but when a freak storm hits their encampment, the team is forced to evacuate, leaving Damon's Mark Watney behind. Thinking him dead, they don't immediately come back looking for him, and Mark must find a way to survive with his dwindling oxygen supply. The only way to do so is to "science the shit out of this." And he does! He figures out how to grow crops on infertile soil and create a dome-like greenhouse in which he can breath outside. Months later, he's able to send a signal to NASA that he's still alive. His crew then sets out on a rogue mission, against NASA's orders, to bring their comrade home.
Also worth noting is that Sean Bean is in this! Maybe this time he won't be brutally killed off. (The North remembers!)
The Martian is based on the novel by Andy Weir and was adapted for the big screen by Drew Goddard (The Cabin in the Woods, Daredevil). If you're around for 10 a.m. PST/1 p.m. EST, the two will be available for a Twitter chat on IMDb. But if not, then we can drool over this gorgeous footage.
Scott has a lot on his plate, including the Prometheus sequel, and Blade Runner 2 with director Denis Villeneuve and Ryan Gosling, but The Martian can probably hold us over until we get these continuations. The trailer shows off a stunning, breathtaking world on a desolate planet as one man struggles to survive in an unthinkable scenario. The film as a whole, as well as the story, has elements of Gravity and Interstellar, both of which were successes and earned their respective filmmakers Oscar nominations, and it seems like now is the perfect time to get a film like this made while the iron is still hot.
The Martian is scheduled to hit theaters on November 25.
Your Daily Blend of Entertainment News
Thank you for signing up to CinemaBlend. You will receive a verification email shortly.
There was a problem. Please refresh the page and try again.