Martin Scorsese Goes Medieval On The French!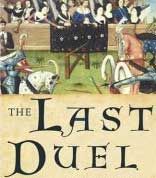 His declaration of impending retirement forgotten, the success of recent movies like The Aviator and The Departed has invigorated Martin Scorsese. Suddenly he's lining up projects left and right. Marty's newest is an adaptation of a historical novel called, "The Last Duel: A True Story of Crime, Scandal and Trial by Combat in Medieval France". Let's hope he shortens the name when he turns it into a film.
Written by Eric Jager, the book is about a duel between two knights in 1386. Jean de Carrouges and Jacques LeGris battled in the last fight ever sanctioned by the French government. The book tells their story while explaining the culture and ideas behind what they were doing. The story told is based on a real event, but the author acknowledges that all the details of the duel aren't known and so he fills in the gaps.
Anyone else think it's the word "crime" in the title that attracted Marty? The guy has a serious criminal obsession. The only thing he loves more than a crime movie is a period piece, and this fits both bills.
It may be awhile before Martin gets to making The Last Duel. Right now he's off somewhere shooting a Rolling Stones documentary, and there are other projects like The Rise of Theodore Roosevelt to consider. But since is the first movie being made as part of his big Paramount deal, you can be sure it's coming eventually.
Your Daily Blend of Entertainment News
Thank you for signing up to CinemaBlend. You will receive a verification email shortly.
There was a problem. Please refresh the page and try again.