Martin Scorsese Verbally Attacked At Wolf Of Wall Street Academy Screening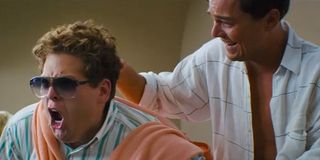 I've got a surprise for you: the "professionals" who make up the pool of Academy Award voters are often childish and impetuous. And a couple of them have words to say about Martin Scorsese's three hour magnum-condom opus The Wolf Of Wall Street, unquestionably Scorsese's most explicit film to date. Were they uncomfortable with the male masturbation sequence? The moment where there are narcotics removed from a lady's hoohah with a straw? Perhaps it's the wall-to-wall language. Or maybe this is the first three hour "Oscar" season film that begins with dwarf-tossing?
Tread lightly, folks, as this article contains more than a few Wolf of Wall Street spoilers.
Prepare yourself for a little Facebook gossip: According to The Wrap, 75 year old actress Hope Holiday, who clearly has her Nymphomaniac tickets already purchased, used the social network site after the screening to lambast the film by calling it "three hours of torture – same disgusting crap over and over again." She also claims that a mild altercation occurred at the AMPAS screening on Saturday night, where an unnamed screenwriter accosted Scorsese, Leonardo DiCaprio, Jonah Hill and writer Terrence Winter, screaming "Shame on you!" As of yet, no one has identified this "screenwriter." How very convenient. Holiday reports that she joined in on this display of negativity, but as of yet, it cannot be confirmed that she also said, "Sprang breeeeeeak foreva, bitches."
Holiday, who had a credit in The Apartment, claims she doesn't really watch much of anything as far as current films, and called American Hustle "confusing," proving once again that you don't even have to like movies to vote for cinema's most prestigious prize. A Paramount rep confirms that, while no one screamed at the filmmakers, there was a "negative comment" shared, though there was no response given that the group was headed into the theater for a Q-and-A, where they may or may not have been pelted with sour tomatoes thrown by elderly bit players from the vaudeville days.
The Wrap throws some shade on this mystery writer by sharing a quote Scorsese said on Friday, a day before the screening, where Scorsese claims the film is, "not made for 14 year olds." Regardless, this is a nice bit of insider-y buzz for the Christmas release, which has failed to gain traction with critics' groups. This is a loaded Christmas release slate, as Wolf Of Wall Street will jockey with The Secret Life Of Walter Mitty , Grudge Match, 47 Ronin and the Justin Bieber documentary Believe as well as holdovers Anchorman 2: The Legend Of Ron Burgundy and
[[ the hobbit ]] <="" i="">. Marty's ode to excess and decadence in the 80's needs all the traction it can get if it hopes to break out from the pack. Hopefully the Academy remembers that it feels good to be nice to each other this holiday season, and to be grateful that, when you're 75, you're still allowed in the group. Even if you haven't had a decent role in forever and you never watch any eligible movies.
Your Daily Blend of Entertainment News
Thank you for signing up to CinemaBlend. You will receive a verification email shortly.
There was a problem. Please refresh the page and try again.