Marvel's Doctor Strange Has Found Its Baron Mordo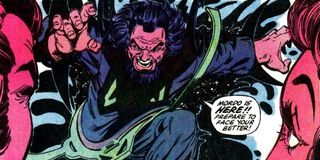 Chiwetel Ejiofor is one of those actors who I'd watch read my tax statements for two hours. Tell me that he's going to be in a Marvel movie, and I'm in – regardless of who you say he's going to be playing. But when you add an actor of Ejiofor's caliber to a movie like Doctor Strange -- a film that already has recruited the incredible Benedict Cumberbatch and is circling Tilda Swinton – and this automatically becomes one of our most-anticipated blockbusters of 2016!
Deadline is going on record to report that that have "learned definitively" that Chiwetel Ejiofor will play the villainous Baron Mordo in Scott Derrickson's Doctor Strange origin story. Mordo trained under the Ancient One (the role reportedly going to Tilda Swinton), and is the rival to Stephen Strange. There have been a number of rumored villains for Marvel's first Doctor Strange movie, so if Deadline is correct, then Mordo will be the first one on the docket.
In the comics, Baron Mordo has anger and jealousy toward Strange, and even launches an attack on the Ancient One – their mutual mentor – which drives a wedge between the two sorcerers. The characters have a lengthy history in the Marvel books, and it makes all the sense in the world why Marvel would choose to introduce him at the beginning of Phase Three.
Deadline notes, interestingly enough, that Chiwetel Ejiofor's Baron Mordo will not be a clear-cut and obviously villainous character in Doctor Strange. Rather, the site says that he will be an amalgamation of different character traits from several Doctor Strange characters. This marks yet another shift in the way that Scott Derrickson is approaching Doctor Strange, as the Ancient One isn't female. Then again, Tilda Swinton can play anyone, at any time, so that casting still makes a ton of sense.
Ejiofor recently was nominated for a Best Actor Oscar for his blistering work in Steve McQueen's 12 Years A Slave. He has been earning industry recognition for years for his work on Talk to Me, Children of Men and the amusing Kinky Boots. Doctor Strange, meanwhile, will continue Marvel's Phase Three (after Captain America: Civil War) while also pushing the studio further into the supernatural. It opens in theaters on November 4, 2016, and is expected to begin filming in London later this year. With that cast, we are 100% on board with everything Doctor Strange does.
Movie junkie. Infatuated with comic-book films. ReelBlend cohost. Resident dad. Extroverted introvert. Wants to see the Snyder Cut. Managing Director at CinemaBlend.
Your Daily Blend of Entertainment News
Thank you for signing up to CinemaBlend. You will receive a verification email shortly.
There was a problem. Please refresh the page and try again.