The Marvel Movie Pepper Potts Will Show Up In Next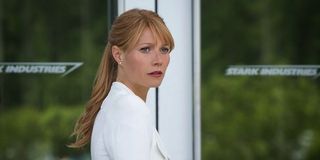 Everyone loves Pepper Potts. Not only does she keep Tony Stark on the straight and narrow, but one of Marvel's greatest ever casting decisions was convincing Gwyneth Paltrow to portray the long tortured assistant to Robert Downey Jr.'s billionaire. We last saw Pepper Potts back in 2013's Iron Man 3, and it's now been revealed that she'll be popping up in the Marvel Cinematic Universe much sooner than any of us expected. That's because Gwyneth Paltrow took part in reshoots for Captain America: Civil War.
Empire Magazine (via Comic Book Movie) has confirmed that the Oscar-winning actress partook in reshoots for the hugely anticipated blockbuster, which will pit Chris Evans' Captain America against Robert Downey Jr.'s Iron Man because of their differences over the Sokovia Accords.
It had previously been speculated that Gwyneth Paltrow, who has portrayed Pepper Potts in all three Iron Man film as well as The Avengers, would reprise her role for the fifth time in Captain America: Civil War. However, considering the huge ensemble that is involved in the Marvel adventure, Pepper Potts' inclusion has almost been lost in the confusion.
That's because Captain America: Civil War will include Chris Evans' Steve Rogers, Robert Downey Jr.'s Tony Stark, Scarlett Johansson's Black Widow, Jeremy Renner's Hawkeye, Paul Rudd's Ant-Man, Sebastian Stan's Winter Soldier, Anthony Mackie's Falcon, Don Cheadle's War Machine, Emily VanCamp's Agent 13, Paul Bettany's Vision and Elizabeth Olsen's Scarlet Witch, while it will also introduce Chadwick Boseman's Black Panther and Tom Holland's Spider-Man to the Marvel Universe too. No wonder Gwyneth Paltrow got lost in this mass of acting and superhero talent.
Because of the size of this ensemble, it's likely that Gwyneth Paltrow will only play a minor role in Captain America: Civil War. In fact, you can imagine her trying to quell Robert Downey Jr.'s Iron Man as his dispute with Chris Evans' Captain America spirals out of control. Just take a look.
Now that we're just over two months away from the release of Captain America: Civil War, Marvel has started to screen the blockbuster for test audiences. And the latest rumor is that viewers are completely split over who to root for in the film, with some moviegoers deciding that Captain America is right in his defense of Bucky Barnes/Winter Soldier, and others rooting for Iron Man.
We now only have a few weeks left until we can make our own minds up about who is right in Iron Man and Captain America's quarrel, as Captain America: Civil War will finally be released on May 6, 2016. It promises to be a big deal.
Your Daily Blend of Entertainment News
Thank you for signing up to CinemaBlend. You will receive a verification email shortly.
There was a problem. Please refresh the page and try again.