Mary-Louise Parker, Ving Rhames & James Woods Join Jamesy Boy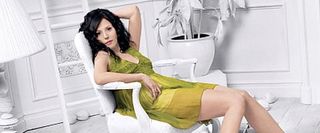 First-time feature director Trevor White has rounded up a strong cast for his debut Jamesy Boy. THR reveals Mary-Louise Parker, Ving Rhames, and James Woods have signed on, which speaks well for the script, penned by White and Lane Shadgett. Based on the true story of James Burns, Jamesy Boy follows the suburban teen's trajectory from small town Colorado gangs to a maximum security prison packed with hardened criminals. In this hostile surrounding Burns unexpectedly discovers a kinship with a convicted murderer, who ultimately becomes a friend and mentor to the young man, spurring him to positive personal change.
Rhames is set to play the murderer turned mentor, with Woods portraying a detention center authority figure and Parker playing the boy's mother. But who will be Jamesy Boy? That weighty role has been awarded to newcomer Spencer Lofranco, who will be making his screen debut with this film. While that's a lot of responsibility and pressure to put on an untested actor, White and his producers at least had the foresight to surround Lofranco with seriously skilled performers, who will urge him to up his game. Plus, this talented trio is sure to nail their respective roles, as these character types are well within their comfort zones.
Rhames has practically forged a career out of creating gruff yet lovable characters, which hit a self-parodying point with his sneering social worker Cobra Bubbles in Lilo & Stitch. Woods is essentially the go-to guy for stern authority figure roles, and Parker has just about perfected her troubled mom shtick after eight seasons of Weeds. So while these actors could well play with what's expected of them, they are sure to deliver, which relieves Lofranco just a bit, but only just.
Jamesy Boy will shoot next month in Baltimore.
Your Daily Blend of Entertainment News
Staff writer at CinemaBlend.
Your Daily Blend of Entertainment News
Thank you for signing up to CinemaBlend. You will receive a verification email shortly.
There was a problem. Please refresh the page and try again.