Mary Poppins And 5 Other Classic Films That Were Fiascos To Make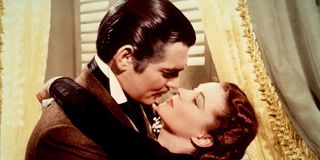 Getting a movie made is hard. It's an expensive, sometimes demoralizing endeavor that often involves casting changes, periods of turnaround and multiple years. In short, it's almost always a fiasco, but as Saving Mr. Banks illustrates, fiasco is a relative term. Sometimes procuring a book's rights or getting a script that works or making a location cooperate takes so long and requires such an extraordinary effort that it goes way beyond the normal Hollywood bullshit. It leads those involved to wonder if the film will ever get made.
More often than not, movies with such glaring on-set or pre-production issues wind up lacking in some way or another. They get approved with scripts so neutered they lack impact, or they eventually involve so many producers they lack a coherent vision, or rumors of on-set problems get so loud they follow the movie around like a disease. As a general rule, less tinkering is usually better, but now and again, all of the effort actually comes together. In fact, some of the greatest movies ever released were complete nightmares to get made.
Let's take a look back at some of those debacles…
Gone With The Wind
Background: After Margaret Mitchell's novel sold a boatload of copies and won the Pulitzer, David O Selznick and MGM decided to adapt it as quickly as possible. Or at least that was the plan initially, but O Selznick became obsessed with getting Clark Gable to play the lead. Because of a large number of prior commitments, that required waiting two years, which is about how long it took to get a serviceable screenplay and to find the right female lead since over 1,400 were auditioned. The first draft of the screenplay was written by Sidney Howard, but it was reworked at least four times by four different writers. Once production actually began, original director George Cukor was replaced by Victor Fleming who up and quit for two weeks before coming back to replace Sam Wood who was cast in the interim.
The End Result: Gone With The Wind crushed at the box office. It won ten Academy Awards and is still widely considered one of the greatest films ever made. Fans tend to fondly remember the 1,400 actresses examined prior to selecting Vivien Leigh, but the complete and utter fiasco with the directors, the screenplay, the cinematography and the long delays have largely been forgotten.
Apocalypse Now
Background: The screenplay for Apocalypse Now was written by John Milius. Francis Ford Coppola loved it and originally passed it along to buddy George Lucas to direct with production beginning in '71. Thanks to a squeamish studio, the project was temporarily shelved. When it was picked back up, Lucas was ready to make Star Wars and passed, leading Coppola to grab the project himself. Photography finally began in Manila in 1976 and was a disaster almost immediately. Rainstorms destroyed sets. The film's payroll was stolen by unidentified locals. Harvey Keitel and Coppola clashed over how to play the main character, leading to the former's firing, and Marlon Brando showed up to the set so gigantically fat the film's original ending had to be scrapped.
The End Result: While early screenings of the film prior to the final cut were very negatively reviewed, Coppola was eventually able to get the runtime together and produce a winning final result. Apocalypse Now was nominated for seven Academy Awards and to this day is widely considered to be one of the greatest war movies ever made.
The Shining
Background: Pre-production wasn't the problem with The Shining. The Stephen King horror novel was written in 1977. As with King's other books, it did very well and the rights were sold almost immediately, in this case with a plan to have Stanley Kubrick adapt it. Principal production, normally around three months or less for a horror movie, wound up taking thirteen months thanks to Kubrick's obsessions with using new camera technologies and his requests to film scenes over and over again. Legend has it he made lead actress Shelley Duvall back up a staircase more than one hundred times to get the right level of terror on her face. That type of attention to detail showed in the final product, but it also led to Duvall's hair falling out and extended periods of sickness that lasted months.
The End Result: The Shining is widely considered one of the greatest horror movies ever made. It's like a masterclass in how to make a movie that features emotionally fucked up characters. Initial reaction wasn't exactly euphoric, but in the years since, damn near everyone has gotten on board.
Lord Of The Rings
Background: Believe it or not, making three, three hour film adaptations of some of the most popular books ever is a gigantic hassle. The rights had been tied up for decades with almost no movement beyond an animated movie when Peter Jackson started inquiring in the mid-1990s. Over the next few years, the director dabbled with a wide range of studios from Universal to Miramax to United Artists, all of which had a different opinion on how to make the final film or films. This required an extraordinary number of screenplays, each of which included a different number of things from the novel and paced out at a different amount of time. At one point, all things seemed like a go and then the studio changed its mind and asked Jackson to direct King Kong. Eventually, all three films were shot in a row in one giant production window in New Zealand for almost three hundred million dollars.
The End Result: The Lord Of The Rings crushed. The three films made almost three billion dollars combined at the box office and cleaned up at the Oscars. To keep the ball rolling, the studio decided to enlist Jackson to make another three movies based on The Hobbit. Reaction hasn't been quite as frenzied, but nonetheless, reception and box office have been decent.
Gangs Of New York
Background: Martin Scorsese is a man with the connections and the reputation to get things done. Apart from releasing films with an NC-17 rating and delivering cuts that are approaching three-and-a-half hours, he can do pretty much anything he wants. So, when he bought the rights to Gangs Of New York all the way back in the late 70s hot off the heels of Taxi Driver, it would have been a good assumption that forward progress would have happened quickly. Unfortunately, it didn't, largely because Scorsese was so obsessed with filming in New York and making the buildings look old that the project was considered impossible. More than two decades later, the director finally got the necessary funding and the technology needed to make his vision happen.
The End Result: Gangs Of New York made almost two hundred million dollars, debuted to pretty solid reviews and got nominated for ten Academy Awards. Scorsese included an extensive segment on the DVD outlining what happened and why he finally found moved forward at the time he did.
Mary Poppins
Background: Following through on a promise to his children, Walt Disney tried to purchase the rights to Mary Poppins from P.L. Travers, and she initially had none of it. So, to try and convince her that he was the right man to bring her characters to her life, good old Walt invited her to Disneyland to experience the thrills and check out some pre-production ideas and pieces of music. Against her better judgment, she gave him the rights to the film. Then, she fought him every step of the way, questioning characters, songs and the slightest plot alterations. The relationship got so rocky by the end that she had to beg to be invited to the premiere. Those who were there claim she sobbed all the way through the runtime.
The End Result: Unlike Travers, the rest of the world loved Mary Poppins. Its songs are still widely sung and fondly remembered today. The film made a fortune at the box office and was nominated for several Academy Awards.
Enthusiastic about Clue, case-of-the-week mysteries, the NBA and cookies at Disney World. Less enthusiastic about the pricing structure of cable, loud noises and Tuesdays.
Your Daily Blend of Entertainment News
Thank you for signing up to CinemaBlend. You will receive a verification email shortly.
There was a problem. Please refresh the page and try again.