Mass Effect Movie Adaptation Gets New Screenwriter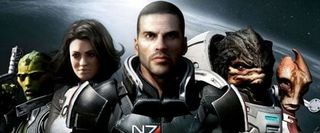 Legendary Pictures has a slate of ambitious action features headed to theaters in the coming year, from Zack Snyder's Superman pic Man of Steel to Guillermo del Toro's giant robot adventure Pacific Rim and the 300 sequel 300: Rise of the Empire. But they've struggled to crack the code on how to adapt the wildly popular videogame Mass Effect into a promising project.
The production company first snagged the movie rights to the game back in 2008, and shortly thereafter picked Mark Protosevich, who contributed to the screenplay for I Am Legend and Thor, to script their adaptation. However, a new report seems to suggest Legendary is starting from scratch once more. Variety reports assistant editor turned screenwriter Morgan Davis Foehl has been selected to take on the tricky task of translating the role-playing third person shooter game into a cohesive and exciting sci-fi action adventure.
Foehl is an up-and-comer with two scripts in development, an adaptation of the comic book Crosshair over at Summit, and a curiously titled sci-fi script titled Alien Sleeper Cell with producers Bill Block and Adrian Askarieh. He also made the illustrious Black List in 2009 with Whatever Gets You Through The Night, which follows the son of a long-time mob lawyer who must choose between prison or teaming up with man who murdered his mother. To date, none of Foehl's screenplays have been produced, but besides being a confessed Mass Effect fan, the spec scripts he has penned are said to have a strong espionage bent that should prove useful in this project.
Each version of the Mass Effect has been a bestseller, which suggests this project would have a massive marketability right out the gate. However, fans of the franchise wonder how the game—the direction of which is shaped largely by its user—will translate into a film. Set in the future, the first game followed a human space commander, leading a team of soldiers seeking to squash a vicious force of mechanized aliens that descend and destroy every 50,000 years like merciless, metal cicadas. However, there are no details on what Foehl has in mind for his adaptation.
If you're a fan of the game, tell us in comments what you'd like to see in the movies.
Staff writer at CinemaBlend.
Your Daily Blend of Entertainment News
Thank you for signing up to CinemaBlend. You will receive a verification email shortly.
There was a problem. Please refresh the page and try again.