Matt Damon And Paul Greengrass May Still Do Another Bourne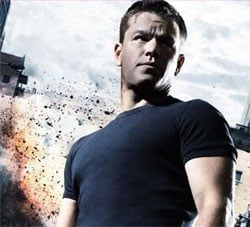 When Tony Gilroy was announced as the director of a fourth Bourne movie which wouldn't star Matt Damon or even be about the character of Jason Bourne a few weeks ago, pretty much everyone assumed that meant Matt Damon's involvement in the Bourne universe was over and done. Even before the announcement, he'd made it clear that he wouldn't do another Bourne movie unless Paul Greengrass directed it and Greengrass didn't seem all that keen to direct another one. But now it seems Matt Damon may not be done with Jason Bourne. Not by a long shot.
Talking to EW about Tony Gilroy's project Damon revealed that part of the reason he likes what they're doing with it so much, is that it won't interfere with any plans he and Greengrass have to do a different Bourne movie. He says, "Jason Bourne is alive in the world that Tony's going to create. I don't appear in it, but it's very much that world. As far as Paul and I are concerned, as long as there's room for us to come in and do another one, we're thrilled."
He's rooting for the movie to do well because as he puts it, "It can only help us if it's really good." It sounds like the whole reason they're going this route with the franchise is specifically to make sure there's room for Greengrass and Damon to do whatever they really want to do, once they're ready. Matt says, "We had been talking about doing another one over a year ago, and we decided it wasn't the time to do it. So I knew that they were trying to figure out a way to reboot it without killing our ability to do another one."
It really does sound like Greengrass and Damon have at least one more Jason Bourne adventure in mind. When they'll get around to making it is unclear but Damon says he has time to kill and doesn't entirely shoot down the notion that he might be getting together with Greengrass to work on another Bourne movie some time soon. While most seem to have absolutely no interest in what Gilroy's doing, if Greengrass and Damon do another one, then I'm all in. The Bourne Ultimatum is easily one of the best action movies of the decade, and with each subsequent Bourne adventure these seem to only get better. Jason Bourne's next adventure may be just around the corner after all.
Your Daily Blend of Entertainment News
Your Daily Blend of Entertainment News
Thank you for signing up to CinemaBlend. You will receive a verification email shortly.
There was a problem. Please refresh the page and try again.