Matthew McConaughey Eyed For Evil Role In The Stand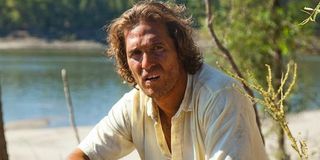 Matthew McConaughey is enjoying an historic run. He earned a well-deserved Best Actor Oscar for playing an AIDS advocate in Dallas Buyers Club. He's currently nominated for an Emmy for his turn on True Detective (and might take home the trophy shortly after you read this story). Without question, McConaughey could pick whatever role appealed to him – and he's reportedly contemplating one of Stephen King's most intriguing characters.
Randall Flagg isn't Satan, but he's close enough. The vicious, powerful antagonist was introduced in Stephen King's eponymous The Stand, and it's that film adaptation that reportedly is eyeing Matthew McConaughey for the part. Deadline notes that the True Detective co-lead is "being chased for numerous plum film roles" but says that sources tell them Warner Bros. "covets [McConaughey] to play the role of Randall Flagg in The Stand, the adaptation of Stephen King's apocalyptic masterpiece novel that Josh Boone will direct." The site says this isn't "firm," but he is being considered.
And it should, because he'd be fantastic. Granted, McConaughey is in the type of zone where he basically could play anyone and anything right about now. But sinking his teeth into Randall Flagg would be a delicious treat for both the actor and the audience. Flagg was the chief villain in Stephen King's The Stand, an evil persona who causes problems for a band of survivors in the time following a devastating, apocalyptic plague. Where some tried to band together in times of crisis to repair the nation, Flagg turned the screws to keep everything off-balance, and benefitted from the chaos.
King must have loved Randall Flagg (dubbed R.F.), because the character continued to appear in multiple books, notably standing in the path of Roland in the author's outstanding Dark Tower series. He's a pivotal character in The Stand, though, and locking up an actor of McConaughey's caliber would be exactly what Josh Boone's adaptation needs as it starts to find its way. When last we heard, The Stand was going to be long, and gritty. But it will have to make great strides if it wants to distance itself from the popular TV mini-series, where Randall Flagg was played on screen by Jamey Sheridan:
As we mentioned, Matthew McConaughey basically could choose any role that he wanted at the moment. But the role we want him to consider, without a doubt, is Randall Flagg.
Movie junkie. Infatuated with comic-book films. ReelBlend cohost. Resident dad. Extroverted introvert. Wants to see the Snyder Cut. Managing Director at CinemaBlend.
Your Daily Blend of Entertainment News
Thank you for signing up to CinemaBlend. You will receive a verification email shortly.
There was a problem. Please refresh the page and try again.