Men In Black 3 Will Hit Blu-ray In November With A Trilogy Package Also Planned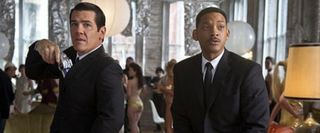 When Men in Black 3 hits 3D Blu-ray, Blu-ray, and DVD on November 30, the series will officially have some city miles on it. There have been two more movies ever since Will Smith—as Agent J—first found out about life outside our world. To celebrate, not only is Sony Pictures Home Entertainment putting together a pretty nice set for the film, the company will also be putting together a Men in Black Trilogy Limited Edition Blu-ray gift set for the diehard fans. Both the Men in Black 3 home copies and the limited edition sets will street on November 30.
As far as the Men in Black series goes, the movies are pretty consistent, with the third film being fascinating to watch due to Josh Brolin mimicking Tommy Lee Jones, even if it's not quite as humorous or weird as the other two flicks in the series. Men in Black 3 follows Agent J as he hops back in time to save a young K from imminent disaster. I would tell you whether or not rolling with the 3D Blu-ray is the right call with the set, but unfortunately, the projectionist in my 3D showing dropped the ball and didn't play the 3D version of the film. Luckily, we have a "To 3D or not to 3D" column to help you with that tough decision.
Overall, the extras with the set look decent, but buyers will be subject to different extras, depending on what copy they are springing for. The really intriguing set will be the Men in Black Trilogy Limited Edition Blu-ray. There's no full bonus features list out for that set, yet, but I'm guessing buyers will get the same extras appearing on the past releases, plus a "Worm" bobblehead figurine. You can check out the full list of extras for the Men in Black 3 release, below.
Men in Black 3 DVD Extras
Gag Reel
Partners in Time: The Making of MIB 3
"Back in Time" Music Video by Pitbull
Men in Black 3 Blu-ray Extras
All of the DVD extras
Spot the Alien Game
The Evolution of Cool: MIB 1960's vs. Today featurette
Keeping It Surreal: The FX of MIB 3 featurette
Four Scene Investigations
Five Progression Reels
Men in Black 3 Blu-ray 3D Extras
All of the DVD and Blu-ray Extras
The Case Of Boris the Animal: The 3D Models of MIB 3
Converting to 3D featurette
Your Daily Blend of Entertainment News
Thank you for signing up to CinemaBlend. You will receive a verification email shortly.
There was a problem. Please refresh the page and try again.