Men In Black 3 Launches Official Web Site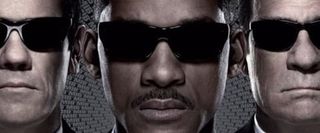 The Men in Black continue to prepare for their big-screen return. After a teaser clip and a full-length trailer, Sony now unveils an interactive Web site that encourages fans to download Twitter skins, share images from a gallery, watch animated gifs and more. It's a decent time filler as we wait for Black to reach theaters in May.
Especially when, a while back, it seemed like Black might never happen at all. Serious pre-production issues – most tied to a convoluted script – almost shelved the planned sequel. For those who don't know, the third story sends Will Smith's Agent J back to the 1960s, where he attempts to find out what's wrong with his partner, K (Tommy Lee Jones), by working with the younger version of the quiet spy (played by Josh Brolin).
The "Story" section of new Web site also says J's mission involves saving the entire Men In Black agency, and humankind, itself. So the stakes are much higher than earlier implied, and shots from the long trailer do suggest some type of alien invasion, though we can't really tell if it's happening in the past, or in the present day.
Sony potentially has a massive summer planned, with MiB3 and The Amazing Spider-Man placed on major holiday weekends. Smith's usually an easy bet at the summer box office, but the MIB series has been on the shelf for some time now, and we're not sure its core audience will return for more extraterrestrial shenanigans. Truthfully, I thought the latest trailer did a good job of setting up the off-the-wall effects in the sequel. But good reviews and strong word-of-mouth will go a long way in determining if MIB 3 is as big a hit as its predecessors.
Movie junkie. Infatuated with comic-book films. ReelBlend cohost. Resident dad. Extroverted introvert. Wants to see the Snyder Cut. Managing Director at CinemaBlend.
Your Daily Blend of Entertainment News
Thank you for signing up to CinemaBlend. You will receive a verification email shortly.
There was a problem. Please refresh the page and try again.