Meryl Streep Calls Walt Disney Gender Bigot While Presenting Saving Mr. Banks Honor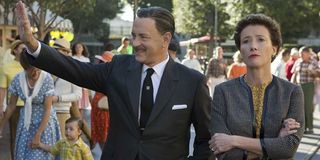 UPDATE: A full transcription of Streep's speech can be found at Vanity Fair, including her referring to herself and Thompson each as "a rabid, man-eating feminist."
When a person dies, it's a bizarre bit of human nature that often urges his/her survivors to gloss over or forget the departed's flaws and remember only his/her attributes. Biopics often cement such shiny depictions, making complicated people into outright heroes. Some could argue Disney's Saving Mr. Banks does that for the studio's founder Walt Disney. Well, Meryl Streep, who was once considered for the role of the film's female lead, has decided to set the record straight.
EW and Variety report Streep turned out to present the Best Actress honor of the National Board of Review to Emma Thompson for her role as Mary Poppins author P.L. Travers in Saving Mr. Banks. But when she took to the podium, she did more than sing the praises of her friend and peer Thompson, she called out Disney for anti-Semitism and gender bigotry.
In a ten-minute speech, Streep celebrated Thompson, even offering a poem "An Ode to Emma or What Emma is Owed." She tied her praise for the heralded English actress into the dark side of Disney's legacy. Her remarks in part:
Basically, Streep is saying we tend to excuse creative people from doing terrible things because we like what they create. But she thinks Thompson needs no such forgiveness. She went on:
To show how Disney's sexist views of women impacted his company's behavior, she then read from a letter the Disney company sent to an aspiring female animator in 1938 that said, "Women do not do any of the creative work in connection with preparing the cartoons for the screen, as that task is performed entirely by young men.For this reason, girls are not considered for the training school."
With comments like these, it's pretty crystal clear why Streep didn't end up in the role of Saving Mr. Banks's Travers. Some might think the NBR stage was not the place for such a statement, but Thompson didn't seem to mind. Reportedly she was "nauseous with gratitude" over her friend's speech. As to the crowd, EW says Streep's speech--performed wearing a bit of Nebraska swag in the form of a trucker hat reading "Prize Winner"--was "funny," "charming," "bold" and "brought down the house."
Here's hoping video of the speech surfaces soon.
Staff writer at CinemaBlend.
Your Daily Blend of Entertainment News
Thank you for signing up to CinemaBlend. You will receive a verification email shortly.
There was a problem. Please refresh the page and try again.