Meryl Streep And Julia Roberts To Play Mother And Daughter In August: Osage County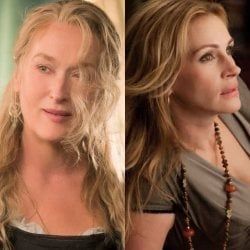 August: Osage County is one of the most successful new plays to come to Broadway in years, a sprawling, three-hour story about an Oklahoma family, their infinite dark secrets and their many hilarious, terrifying fights. It's a great play with literally half a dozen great roles, and as soon as The Weinstein Company picked up the rights to Tracy Letts's work nearly two years ago, I predicted every actress in Hollywood would have their agents beating down the door for a chance at this one.
It's taken a while, but the Weinsteins are finally ready to move forward with the film, and to start things off they've made some decent but very, very predictable casting choices. According to Deadline, Meryl Streep and Julia Roberts will anchor the cast as Violet and Barbara, respectively; Violet is the drug-addled, acid-tongued matriarch memorably played by Deanna Dunagan in the original Broadway run, and Barbara is her eldest daughter who finds herself falling apart when she learns her husband is having an affair and that her teenage daughter is growing up way, way too fast.
On board to direct is John Wells, who had only directed a handful of ER episodes before making The Company Men, a respectable but slightly stuffy drama that made its debut at Sundance this year and has yet to see release.
The choice of Wells as a director-- perfectly capable but not too exciting-- kind of sums up why I'm not thrilled about this news. Of course Meryl Streep and Julia Roberts are immensely talented actresses, and of course it will be fun to see such famous faces sparring as mother and daughter. But the roles in August: Osage County are so wonderful that i was kind of rooting for actresses with a little less attention-- Glenn Close for Violet, say, or Amy Ryan as Barbara-- to get a shot at it. With Streep and Roberts on board they'll inevitably be able to fill out the rest of the cast with more huge names, and maybe some of those underused actresses will get a shot, but I really was hoping for a little more adventurous choices in the lead roles.
We'll keep an eye on how the rest of the cast fills out-- if you want a great list of suggestions, Nathaniel Rogers at The Film Experience got a great conversation going about fantasy casting-- and, obviously, a translation of a great play to the screen starring Meryl Streep is a must-see. Feel free to just leave me in my corner with my slight bitterness.
Staff Writer at CinemaBlend
Your Daily Blend of Entertainment News
Thank you for signing up to CinemaBlend. You will receive a verification email shortly.
There was a problem. Please refresh the page and try again.