Michael Bay Claims Leaked Teenage Mutant Turtles Script Was First Draft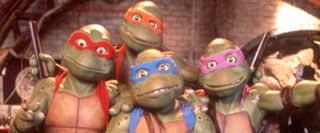 Though still ambling through development, Michael Bay's reported reboot of The Teenage Mutant Ninja Turtles franchise has already been causing repeated outrage across the web. After making three live-action blockbusters from the Transformers brand that proved wildly successful worldwide, it seemed an easy leap for Paramount to sign the action helmer known for explosions and big box office to adapt another adored property from the '80s/'90s.
But when word hit that Bay's "edgy" new vision of the capering crime-fighting heroes in a half-shell included making them aliens and changing their name to simply Ninja Turtles, the outcry from fans of the comics, cartoon show and '90s live-action movies was so intense that Bay himself responded on his official forum page, to calm fan fears. Now, in the wake of renewed outcry over a leaked script for the Ninja Turtles that sidelines the titular heroes, focusing instead on a teenaged Casey Jones—complete with nagging girlfriend April O'Neil—Turtle fans split into two factions: those freshly enraged about Bay's mutation of their beloved childhood idols, and those who refused to believe such a terrible script could possibly be real.
Well, true to form, Bay is responding once more, effectively entreating us all to calm down and let him do his job. First posting:
However, after Latino Review pointed out the leaked script was from earlier this year—two years after Bay was reportedly attached to the reboot—Bay followed up with a new tact, where he calls the script "the first draft" and breaks down the math of his deal with Paramount:
Despite his tone, which suggests he's getting pretty damn tired of explaining himself about a movie he hasn't even made yet, I actually admire that Bay is so eager to engage with the fans, who—in theory—are the audience he is making Ninja Turtles for. However, there's a running theme in his posts that boils down to "Trust in Bay" which may be too big a pill for many to swallow.
Your Daily Blend of Entertainment News
Staff writer at CinemaBlend.