Michael Bay's Production Company May Take Over Halloween 3D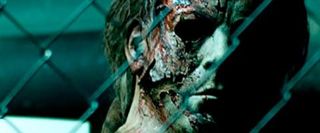 Last month we warned that Dimension's long-delayed Halloween 3D may be dead for good, following news that its theatrical release had been plucked from the horror studio's calendar. But now there's buzz that Michael Myers may return to theaters after all, thanks to Platinum Dunes. According to Bloody Disgusting, Michael Bay's production company has entered into negotiations to produce the latest entry in the Halloween reboot series. However, while Dunes' interest in Halloween could keep the series going, it does mean some losses from Dimension's Halloween 3D.
From the sound of it, this deal could mean Halloween 3D will lose its proposed found footage approach, attached directing duo Todd Farmer and Patrick Lussier, (My Bloody Valentine, Drive Angry) and the use of 3D. Basically, Platinum Dunes is considering a total tear down of the project, which should be little surprise to Teenage Mutant Ninja Turtles fans who've recently revolted against Bay's purported revisions to the property for his movie reboot Ninja Turtles. Of course, as this is the third film in the series, the changes Bay and his team could bring to the table will probably be less radical. And to their credit Platinum Dunes co-founders Brad Fuller and Andrew Form have produced a string of well-received horror remakes of late, including The Texas Chainsaw Massacre, The Amityville Horror, Friday the 13th and A Nightmare On Elm Street.
Each of these titles had a conservative budget that only helped its box office results, so its expected that the next Halloween will be no different. Shedding the costliness of 3D appears to be the first piece in Dunes' cost-cutting equation. And frankly, that seems a shame as My Bloody Valentine displayed some of the most thrilling uses of 3-D I've seen. Still, Michael Myers doesn't need gimmicks to terrify audiences; all he needs are his trademark mask and knife. Let's just hope Bay's brand of rebooting doesn't mess with these elements…or make him an alien.
Your Daily Blend of Entertainment News
Staff writer at CinemaBlend.