Is Michael Bay Turning The Teenage Mutant Ninja Turtles Into Aliens?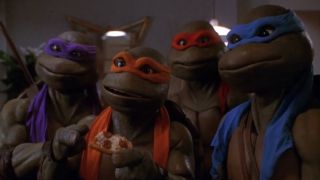 (Image credit: New Line Cinema)
Michael Bay has gotten very, very rich by making movies about alien races who come down to earth and cause a bunch of mayhem. And even though the Transformers franchise seems set to continue with Transformers 4 in the works, Bay is apparently set on expanding his alien creature empire-- even when it makes no sense whatsoever to do so. With his company Platinum Dunes in charge of the Christmas 2013 release of a Teenage Mutant Ninja Turtles reboot, Bay spoke to press at the Nickelodeon Upfront in New York last week to talk about his plans for the movie-- and let it slip that the turtles this time around are going to be aliens. You can see it for yourself in the video below, via stuff We Like.
If you didn't watch the video, here's the quote that might make your blood boil:
If you know anything about the Turtles, from their early 90s cartoon heyday or the movies or the original comic books, you know that they're regular old earth turtles who are mutated-- thus the "Mutant" of the title-- to have special powers. Sure it might not be that big a difference if you're just a kid looking to be entertained, but that's not the world we live in-- there are devoted Turtles fans out there who won't take well to seeing their characters changed in this way. And even if you don't really care how the turtles got their powers, you have to wonder why Bay is messing with the formula. Does he really think making them aliens will automatically make them as successful as Transformers? Does he just not know the difference and misspoke at this presentation?
We'll probably know soon enough if this new take on the Turtles, to be directed by Wrath of the Titans helmet Jonathan Liebesman, gives them an alien origin. But let us know in the meantime how much it bugs you, and if you think Michael Bay really is trying to give this the Transformers spin. It wouldn't surprise me, if only because I think Bay has long since abandoned his ability to feel shame.
Your Daily Blend of Entertainment News
Staff Writer at CinemaBlend