Michael Fassbender Tapped To Play Poisoned Russian Spy In Londongrad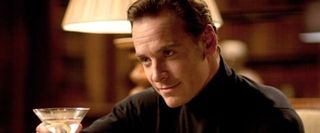 Remember the story of Alexander Litvinenko? He was the former KGB spy that died under mysterious circumstances back in 2006. The victim of poisoning by the radioactive compound polonium-210, Litvinenko spun a story worthy of Ludlum from his deathbed. He claimed to have met with two other ex-KGB men the day he fell ill, and while both men denied it, a leaked U.S. diplomatic cable suggested that one of the men had left trace amounts of the radioactive compound on both the house and car he had used in Hamburg. In a posthumous statement, his story upped the ante even further -- Litvinenko accused Russian president Vladimir Putin of being directly involved in his poisoning. The mystery was never solved, but if Litvinenko's accusations are true, it's a clear case of truth being stranger than fiction. It also has the makings of a great movie.
Warner Bros. agrees, and Deadline says they're courting two big names for Londongrad, a film based on Litvinenko's story. First up is rising-star actor Michael Fassbender, who Warners wants for the lead role of Litvinenko. Fassbender has proven adept at both huge tentpole films and more serious fare, having earned a solid rep on movies such as Inglourious Basterds, Hunger, and as a young Erik Lehnsherr/Magneto in X-Men: First Class. In the near future he's appearing in both Ridley Scott's high-profile science fiction epic Prometheus and as a sex addict in the NC-17 rated Shame. Clearly, he doesn't like to be pinned down as an actor.
The studio is also purportedly talking to Rise of the Planet of the Apes director Rupert Wyatt to helm the flick. Screenwriter David Scarpa (The Day the Earth Stood Still) penned the Londongrad script.
Your Daily Blend of Entertainment News
Thank you for signing up to CinemaBlend. You will receive a verification email shortly.
There was a problem. Please refresh the page and try again.