Michael Jackson Secretly Remade Thriller, And You Can See It In 3D!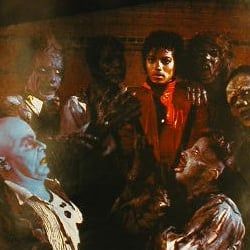 Michael Jackson's concert documentary This Is It will arrive in theaters next week and it contains more than a few surprises. We talked with the film's director Kenny Ortega and choreographer/associate producer Travis Payne today, and they revealed that before Jackson died, they filmed brand new versions of Michael's most well known and iconic music videos for inclusion with the concert. In particular, if you buy a ticket for Michael Jackson's This Is It you'll also see, for the first time ever, brand new, re-imagined music videos for "Thriller", "Man in the Mirror", and "Earth Song".
The intention was to use the new videos as transitions into the performed versions of the songs, transitions that are a long way from the original. Payne promises that the new "Thriller" is nothing like the boy on the date with the girl, while at the same time, "We didn't touch what we considered the sacred inside of it." And while the new version of "Thriller" and the other songs will be screened with This Is It in plain old 2D next week, that's not how they were intended to be seen, and that might not be the last we see of them either.
Ortega also revealed that there may be a 3D re-release of Michael Jackson's This Is it later on, including the revamped music videos that were originally to be broadcast during the concerts in 3D. "Later down the line there may be an opportunity for us to do some special 3D package," Ortega hinted. But that's not nearly as elaborate as how the videos were originally intended to be shown. The plan was to have the audience members don 3D glasses in the middle of the concert, but it was going to be much more than just 3D screens in the corner. As Payne explained it to me, "We had 3D and also frontal elements and overhead elements that actually created a 4D environment that the audience was sitting it." Jackson, Payne and the rest of the team scoured the country to find a technology company large enough to build the screen they wanted, and in the process, they started to build the largest 3D LED screen in the world.
Of course, we won't get to see that screen. But Payne believes that re-releasing This Is It in 3D is actually the ideal way to see the footage, given Jackson's lifelong interest in 3D technology. "Michael would want the entire experience in 3D, and we will try out best to facilitate his wishes. He made it clear that that was the new frontier."
Your Daily Blend of Entertainment News