Micheal Bay Waffles On Transformers 2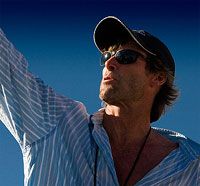 A strange story has popped up concerning Michael Bay's plans for the future of Transformers. SuperheroHype is running a story in which they claim to have found the following post from Michael Bay on his official site, while Bay discussed the upcoming IMAX version of Transformers:
Bay says, "Transformers 2', well that's another story. Iching [sic] to work pre-strike (June) so I might jump ship and come back a year or so later cause people at the studio have been dragging for two months. Not sure why. I'll keep you informed."
That would seem to indicate that the Bay's future with Transformers 2 may be in doubt, whether it be that he's jumping ship from TF2 or simply delaying the film until we're in a post-strike world. Except a quick search of Bay's site reveals no sign of the post. The link SH provides as a source, takes you to a passworded page on Bay's site that we were unable to access.
Instead what you'll find on Bay's site is a post from him discussing the IMAX release of Transformers without any sign of the above quote. It seems likely that Bay may have removed the quote, either because he misspoke, or because he said more than he should have. It's not the first time Bay has spoken openly and then gone back in time to revise himself and say something else. That maybe what he's doing here, because now all he has to say about TF2 seems to indicate the exact opposite. His latest post here says, "I'm going to see Tranformers one last time and get ready to gear up for Transformers 2."
Good luck figuring out which Michael Bay to believe. If he keeps this up, soon he'll be able to compete with George Lucas as geekdom's master of doublespeak.
Your Daily Blend of Entertainment News