Mike Meyers And Dana Carvey Bury The Hatchet For Wayne's World Reunion Panel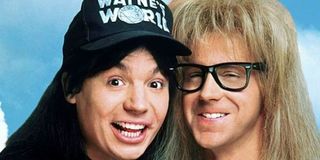 Ever wonder why there was no Wayne's World 3? Part of the reason could be the lackluster box office totals for Wayne's World 2, but it could also be blamed on the rift that formed between star Mike Meyers, his co-star Dana Carvey and Wayne's World director Penelope Spheeris. Despite the first film's happy-go-lucky vibe, there were squabbles behind-the-scenes. But years later, this is all just water under the bridge, and now the three will reunite for a Wayne's World panel on April 23 at the Academy's Wilshire Boulevard headquarters.
Speaking with THR about the event, Spheeris said:
But what was the brouhaha all about? Reportedly Myers and Spheeris fought over the film's final cut, with her often rejecting his suggestions. To her credit, her version scored well with test audiences, and went on to be a beloved box office hit. Still, when it came time to make a sequel, the spurned Meyers pushed Spheeris out of consideration for the director's chair. Instead, Stephen Surjik helmed Wayne's World 2, which barely broke even at the domestic box office and was less loved by critics. Spheeris went on to helm such bubbly comedies as The Beverly Hillbillies, The Little Rascals and Black Sheep.
The rift between Meyers and Carvey came a little later when the latter saw Austin Powers: The Spy Who Shagged Me. Carvey felt burned, believing Meyer's had ripped off a goofy impersonation he'd done of Saturday Night Live creator Lorne Michaels to create Dr. Evil. That might have stung less if Carvey had been offered a role in the popular franchise. Still, this trio of comedy crafters are burying the hatchet, so it's party time. Excellent!
Staff writer at CinemaBlend.
Your Daily Blend of Entertainment News
Thank you for signing up to CinemaBlend. You will receive a verification email shortly.
There was a problem. Please refresh the page and try again.