Mike Tyson Says Jamie Foxx Will Play Him In Upcoming Movie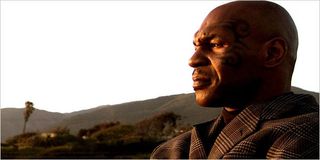 Jamie Foxx was a comedy legend, he's got an Oscar, and he was Django. So if you're going to pick anyone to play you in a movie, why not Jamie? He's already brought life to such important figures in black history like Ray Charles, Tookie Williams and Electro, and now he might be bulking up to take on the fiercest boxer in history. Jamie Foxx, one-time star of In Living Color, might end up playing Mike Tyson.
The Daily Mirror has the scoop, claiming that Mike Tyson has handpicked Foxx to bring his life to the screen.
So Jamie Foxx as Mike Tyson in his youth with the aid of CGI? Frankly, sounds like b.s. The not-that-reliable Mirror also claims that Tyson intimated the very busy Martin Scorsese would be involved in some aspect. You'd think Foxx would have learned his lesson about messing with Tyson by now...
Mike Tyson has somehow reinvented himself in the public eye, though this movie would no doubt cover a lot of the darker portions of Tyson's life. He was physically and sexually abusive towards the women in his life, he consistently injured fellow boxers in the ring, and was generally the scariest dude in the world. Now he performs one-man shows on Broadway and stars in animated programs.
So, sure, let's pretend there's some truth to this. Both Foxx and Scorsese have experience in boxing films, the latter with Raging Bull, the former with his supporting role in Ali. And Tyson's story is compelling, enough to buoy the documentary Tyson from James Toback that hit theaters a couple of years ago and remains transfixing. Could Foxx play Tyson? Probably. But every Mike Tyson impersonation results in silly voices and nonsense malapropisms as a result of his squeaky delivery and questionable high school equivalency received in prison. The trick is to make sure this isn't a joke, and that might be accomplished by a more serious, darker film. The kind of film that, if you know Tyson, some studios might not want to make.
Don't be surprised if a Tyson film happens in the near future. Though if I had to guess, it wouldn't involve Foxx and Scorsese.
Your Daily Blend of Entertainment News