Mila Kunis Won't Confirm Your Lesbian Fantasies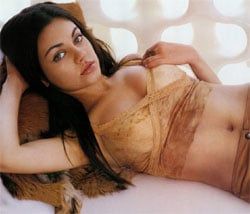 Last week was one of those weeks that geeks will remember, pretty much forever. No it had nothing to do with Avatar which, let's face it, even if you like the trailer isn't quite what we expected. Instead every male over the age of 23 had nearly all of his deepest sexual fantasies fulfilled when we learned that Mila Kunis will soon be seen having sex on screen. And "not just nice sweet innocent sex either. We're talking ecstasy-induced hungry aggressive angry sex." Rumor has it that it's happening in the new Darren Aronfosky movie Black Swan, which is totally believable since he's the director who got Jennifer Connelly to take a double-dildo. He also made Marlan Wayans a good actor. Clearly this is a man who can work miracles.
Great as this whole Mila Kunis/Natalie Portman sapphic porn movie sounds, there's one problem. No one involved with the film is willing to confirm that it's happening. The original story came from a site here which claimed to have somehow obtained the Black Swan and found the aforementioned gratuitous lesbian sex scene within it. So of course when journalists cornered Kunis at a roundtable interview to promote Extract they asked her about it. According to Collider she refused to address it. Well, sort of.
Actually what she said was this: "Yes. I've heard about this from everybody. I mean, something got out." What she won't say is whether what got out is accurate. Or for that matter, assuming it is accurate and this is in the script, are they actually shooting it as is? She did say the script "got a recent rewrite last weekend." That means the script reviewed, assuming it's real, is already out of date and the scene in question could already be gone.
Black Swan casts Natalie Portman as a talented ballerina tormented by a rival who, may or may not, be a figment of her imagination. Mila Kunis plays the rival dancer of questionable reality.
Your Daily Blend of Entertainment News
Thank you for signing up to CinemaBlend. You will receive a verification email shortly.
There was a problem. Please refresh the page and try again.