The Best Psychological Thriller Movies And How To Watch Them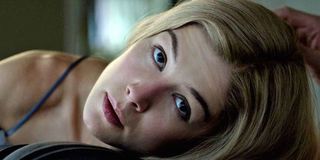 CinemaBlend participates in affiliate programs with various companies. We may earn a commission when you click on or make purchases via links.
Over the years, filmmakers like Alfred Hitchcock, David Fincher, and Bong Joon-ho have crafted several of cinema's most intense and cerebral thrillers that leave the audience in a state of disbelief following some sort of big twist. It happens in all of the best psychological thriller movies, even though not all directors walk the audience through the big reveal like a magician uncovering his biggest trick. These movies bring something out of us, or at least show us something that leaves us pondering on what just happened even after the house lights have turned on or the streaming service has gone to the next title.
Below is a list of more than 20 of the best psychological thriller movies available streaming, for digital rental, or on physical media like DVD and Blu-ray, that includes the likes of Gone Girl, Best Picture winner Parasite, and Rear Window. Spanning decades and from all around the world, these movies are some of the best examples of what the genre has to offer.
Parasite (2019)
Bong Joon-Ho's Oscar-winning thriller Parasite is one of those movies that rewards the viewer for not watching any trailers, reading any reviews, or really knowing what the movie is about (which makes it difficult to recommend to someone who's never seen it). The 2019 Korean drama about the social and economic divide of two families on opposites sides of the spectrum is harrowing, traumatizing, yet at times joyful and hilarious, well until the hammer comes crashing down.
Get it on DVD/Blu-Ray on Amazon
The Silence Of The Lambs (1991)
Jonathan Demme's 1991 thriller about an FBI agent (Jodie Foster) attempting to get into the head of a convicted murderer (Anthony Hopkins) in order to track down an on-the-run serial killer (Ted Levine) before he can claim another victim not only meets the hype, it exceeds it many times over. The way in which Hopkins' Hannibal Lecter toys with Foster's Clarice Starling throughout The Silence of the Lambs is still just as engaging and terrifying all these years later.
Stream The Silence of the Lambs on Showtime.
Get it on DVD/Blu-Ray on Amazon.
Rear Window (1954)
Alfred Hitchcock's 1954 masterpiece Rear Window is another movie that leaves you guessing the entire time. On one hand, there's evidence that supports Jeff Jefferies' (Jimmy Stewart) theory that his neighbor is a murderer, but on there's also evidence that points in other directions. And that's what makes this movie such a gem. We are left questioning our action and presumption (even our own) the entire time, making us feel as crazy as the photographer with a broken leg and bored out of his mind.
Rent/Buy Rear Window on Amazon.
Get it on DVD/Blu-Ray on Amazon.
No Country For Old Men (2007)
The Coen brothers' No Country For Old Men has a relatively straight-forward plot involving a drug deal gone wrong, a suitcase of cash, and a ruthless killer pursuing the man who made the mistake of taking the money. Dig a little deeper, however, and you have one of the most psychologically traumatic movies in recent memory. This is a terrifying movie (thanks to Javier Bardem's Anton Chigurh) that sneaks in a lot of talk about fate, luck, destiny, and one hell of an ending that leaves a lot up to interpretation.
Stream No Country For Old Men on HBO Max.
Rent/Buy No Country For Old Men on Amazon.
Get it on DVD/Blu-Ray on Amazon.
Gone Girl (2014)
Gone Girl, David Fincher's 2014 thriller based on Gillian Flynn's novel of the same name tells the story of woman (Rosamund Pike) who vanishes on her fifth wedding anniversary, leaving her husband (Ben Affleck) clueless as well as a suspect in her disappearance. And while Fincher allows the audience to peak beneath the curtain a little bit, he never does so to the point of ruining what comes next.
Get it on DVD/Blu-Ray on Amazon.
Memento (2001)
In the years following the release of Memento, Christopher Nolan would test his audiences with movies like The Prestige, Inception, and Tenet, but he had to start somewhere and that was the 2001 psychological thriller starring Guy Pearce as a man with no memory. From the opening scene, the viewer knows just as much as Leonard Shelby, which is honestly what makes the ride so fulfilling.
Get it on DVD/Blu-Ray on Amazon.
Taxi Driver (1976)
Taxi Driver is one of those movies you don't necessarily want to watch all that often, not because it's bad or anything like that, but because the Martin Scorsese classic knows how to get into your head and make you feel a lot like Travis Bickle (Robert De Niro). Seriously, this movie will find any insecurity or negative thought you have and make it all the more intense as you watch the unhinged cab driver find himself taking a path of no return.
Stream Taxi Driver on Showtime.
Get it on DVD/Blu-Ray on Amazon.
The Shining (1980)
Stanley Kubrick's 1980 adaptation of Stephen King's The Shining is technically a ghost movie, but there is the is a strong psychological presence featured throughout the movie, especially as Jack Torrance (Jack Nicholson) slowly begins losing touch with reality. This descent into madness, brought on by the aforementioned supernatural presence of the Overlook Hotel, as well as the isolation of a winter spent in a closed resort, makes one of the most terrifying cinematic experiences of all time.
Stream The Shining on HBO Max.
Rent/Buy The Shining on Amazon
Get it on DVD/Blu-Ray on Amazon.
The Conversation (1974)
The Conversation, Francis Ford Coppola's 1974 drama about surveillance expert Harry Caul (Gene Hackman) hired to tail a young couple starts off like any thriller. But when Harry discovers a mysterious and presumably coded message, his mental state, and just about everything else in his life, begins to slip away, leaving him in a mad, unstable, and obsessive way
Stream The Conversation on Showtime.
Rent/Buy The Conversation on Amazon.
Get it on DVD/Blu-Ray on Amazon.
Nightcrawler (2014)
Dan Gilroy's 2014 nocturnal thriller Nightcrawler follows freelance videographer Lou Bloom (Jake Gyllenhaal) as he starts capturing footage for a local news station. What starts off as a relatively normal yet odd job slowly morphs into an obsession for Bloom who stops at absolutely nothing to be the first on the scene, even if that means becoming a part of the shot.
Stream Nightcrawler on Netflix.
Rent/Buy Nightcrawler on Amazon.
Get it on DVD/Blu-Ray on Amazon.
Blue Velvet (1986)
David Lynch's neo-noir crime thriller Blue Velvet could be seen as a cautionary tale warning those from the straight and narrow to keep to their path and not give in to the temptation of curiosity. Kyle MacLachlan's Jeffrey Beaumont finds that out the hard way when the discovery of a human ear sets him on a path that ends with an encounter with the demented Frank Booth (Dennis Hopper).
Rent/Buy Blue Velvet on Amazon.
Get it on DVD/Blu-Ray on Amazon.
Joker (2019)
The first time I saw Joker was an experience like never before. I had a feeling what I was getting myself into before watching Todd Phillips' 2019 take on Batman's most notorious foe, but nothing could have prepared me for how Joaquin Phoenix's portrayal of Arthur Fleck as he transitions into Joker. I still don't know if that's a good thing or something more troubling, but it's a feeling I haven't been able to shake.
Get it on DVD/Blu-Ray on Amazon.
Nocturnal Animals (2016)
There are movies that forever change the way we see certain actors. For me, the movie is Nocturnal Animals and the actor is Aaron Taylor-Johnson who gave a sickening performance as the sick and twisted Ray Marcus. Even though the character's actions are set within a book written by Jake Gyllenhaal's Edward Sheffield, I see the sadistic leader of a fictional gang whenever I think of the Avengers: Age of Ultron and Godzilla star.
Stream Nocturnal Animals on Netflix.
Rent/Buy Nocturnal Animals on Amazon.
Get it on DVD/Blu-Ray on Amazon.
The Night Of The Hunter (1955)
The Night of the Hunter, which features screen legend Robert Mitchum portraying a religious fanatic and serial killer who tracks down the widow of his former cellmate and does everything in his power to locate $10,000 the condemned man confessed to hiding shortly before he was captured. The way that Mitchum's character preys on the struggling family and toys with them throughout the film makes for one terrifying game.
Rent/Buy Night of the Hunter on Amazon.
Get it on DVD/Blu-Ray on Amazon.
Black Swan (2010)
Darren Aronofsky had already had a history of tackling psychological issues with movies like Pi and Requiem for a Dream, but his 2010 film Black Swan, which centers around a production of Swan Lake, takes things to the next level. Watching as Nina Sayers (Natalie Portman) transforms from a dedicated and talented dancer to a damaged, obsessed, and psychotic "Swan Queen" is just as traumatic now as it was when the film was first released well over a decade ago.
Rent/Buy Black Swan on Amazon.
Get it on DVD/Blu-Ray on Amazon.
Prisoners (2013)
There is something about Denis Villeneuve's 2013 tour de force Prisoners that turns the movie into the cinematic equivalent of a car crash: you don't want to watch but you can't look away. The movie, which centers on the kidnapping of two young girls and the fallout experienced by their respective families, especially one of their fathers (Hugh Jackman), shows just how far someone will go to get "justice," whatever that may mean to them.
Get it on DVD/Blu-Ray on Amazon.
The Game (1997)
You never really know what to believe in a David Fincher movie, and that is best seen in the 1997 psychological thriller The Game, which follows successful banker Nicholas Van Orton (Michael Douglas in a career-defining performance) after his estranged brother (Sean Penn) buys him a mind-bending and unorthodox birthday present. Just like Douglas' character, you'll be questioning your own reality by the end of this one.
Get it on DVD/Blu-Ray on Amazon.
Psycho (1960)
Psycho, the quintessential Alfred Hitchcock movie as well as the most notable psychological thriller is still just as much of a thrill ride now as it was when it was released 61 years ago. The story of the happenings of the Bates Motel, its proprietor, and their victim (who wasn't as innocent as some may think) sinks its teeth into you from the opening shot and doesn't let go until that menacing laugh fills your ears in the final moments.
Get it on DVD/Blu-Ray on Amazon.
Moon (2009)
When I first saw Moon in theaters back in the summer of 2009, I thought the movie's big twist would center around Gertie, the robotic assistant voiced by Kevin Spacey, but the truth about Sam Bell (Sam Rockwell) and his story that unfolds throughout Duncan Jones' sci-fi drama was far, far more satisfying, albeit depressing as all hell.
Get it on DVD/Blu-Ray on Amazon.
Misery (1990)
Misery, Rob Reiner's 1990 adaptation of the Stephen King's novel of the same name, is one of the most traumatizing movie experiences most of us have had in our entire lives (well, those who aren't obsessed with Eastern European body horror flicks). Kathy Bates, who won an Oscar for her portrayal of Annie Wilkes, goes beyond terrifying in her treatment of injured (those not as injured as he will be later on in the movie) writer Paul Sheldon (James Caan) and really gets into your head here.
Get it on DVD/Blu-Ray on Amazon.
Compliance (2012)
Craig Zobel's 2012 film Compliance, follows Becky (Dreama Walker), a fast food worker who becomes the victim of a sinister game carried out a mysterious caller who accuses her of theft. What starts out as a series of questions quickly devolves into something much more sinister when the caller (who is acting like a cop) tells the restaurant's manager (Ann Dowd) to intensify the interrogation. What follows is a sad state of affairs.
Rent/Buy Compliance on Amazon.
Get it on DVD/Blu-Ray on Amazon.
Oldboy (2003)
Oldboy, the 2003 original Korean film based on the manga series of the same name, follows Oh Dae-su (Choi Min-sik) as he imprisoned by an unknown person for unknown reasons for 15 years. When released from his hotel room cell, he goes on a journey to discover the nature of his imprisonment, but what he finds is much worse than being locked away all those years.
Get it on DVD/Blu-Ray on Amazon.
Each and every one of those movies will surely affect you in one way or another, and while some are hard to watch, they all have their own merits. And in the event you've seen all those, go ahead and check out CinemaBlend's list of upcoming 2021 movie premiere dates.
Philip grew up in Louisiana (not New Orleans) before moving to St. Louis after graduating from Louisiana State University-Shreveport. When he's not writing about movies or television, Philip can be found being chased by his three kids, telling his dogs to stop yelling at the mailman, or yelling about professional wrestling to his wife. If the stars properly align, he will talk about For Love Of The Game being the best baseball movie of all time.
Your Daily Blend of Entertainment News
Thank you for signing up to CinemaBlend. You will receive a verification email shortly.
There was a problem. Please refresh the page and try again.